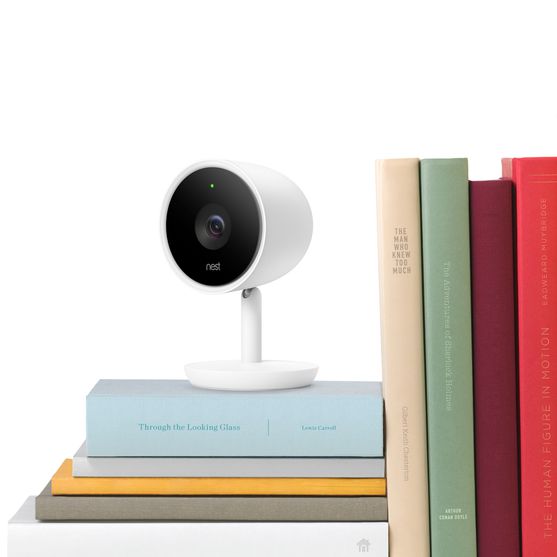 Sometimes to take a step forward, you have to start from scratch. Just over two years ago, we set out to create the ultimate indoor security camera – one that was smarter, sharper and more beautiful than anything we'd seen before.
Meet Nest Cam IQ. We built it from the ground up with completely new hardware. Everything – from the lens to the hinge to the microphones – is state of the art. And when the hardware is this advanced, all the software and services can go to the next level.
Nest Cam IQ is available exclusively from iSelect, Australia's Life Admin Store, to those customers with a qualifying broadband package of NBN 25 plan and above. For more details visit the iSelect homepage.
An eye for faces
Because it sees better, Nest Cam IQ can think better. It has the processing power to tell a person from a thing. So you get person alerts right out of the box*. (Nest Cam Indoor needs help from the cloud to do that). But if you do choose to add a Nest Aware subscription service, Nest Cam IQ can use the power of the cloud to use facial recognition so it sends an alert if it sees a family member – or a stranger. So your camera can tell you more than whether or not it saw a person. It can tell you if it's your dog walker or a stranger in your living room.
This is a job for Supersight
With video, image quality is so much more than pixel count. It's about processing, encoding, pixel size, frame rate and more.
Nest Cam IQ has a 4K sensor and wide 130° view to capture as much as possible. Then it turns that raw data into extra-clear, seamless video – and two ways to watch it. We call it Supersight.
Supersight starts with HDR, combining staggered 4K images into one beautifully balanced 1080p HD picture that won't choke your connection. Then the video is encrypted and its bit rate adaptively adjusted. And if you want to conserve your internet bandwidth, you can also manually choose between four image quality settings.
And now comes the main magic trick: the close-up tracking shot. When Nest Cam IQ spots a person, Supersight can automatically zoom in and follow him walking across a room, while still keeping the full 130° picture in view.
Want to keep a closer eye on a specific area? You can digitally zoom in up to 12x and enhance the video to a crisp 1080p HD. And you can still see clearly thanks to its 4K sensor.
Intelligent Audio
With a high-end speaker and three-microphone array, Nest Cam IQ speaks louder and listens clearer. It's got noise suppression and echo cancellation. And comes with full-duplex, you can simply press the audio button and have a normal conversation.
With Nest Aware, Nest Cam IQ will also send intelligent audio alerts. It can notify you when Nest Cam hears the sound of a dog or a person's voice. So if you get a dog barking alert, you can see if Fido is onto something, or just driving the neighbors crazy.
We keep getting better
The entire range of Nest Cam security camera get better over time – thoughtful changes like Sightline and three-hour snapshot history keep raising the bar for intelligent cameras. But Nest Cam IQ doesn't raise the bar, it's changed the game.
Nest Cam IQ indoor owners will also be the first security camera to have Google Assistant built-in adding a new level of intelligence – including the ability to ask questions, control the home, and manage tasks. The option to add the Google Assistant to Nest Cam IQ indoor will be available via a free software update for all Australian customers this winter.
* Video streaming, video recording, and mobile notifications require working internet and Wi-Fi. This means a broadband internet connection with at least 2 Mbps upload speed (DSL may not qualify). Check with your internet provider.