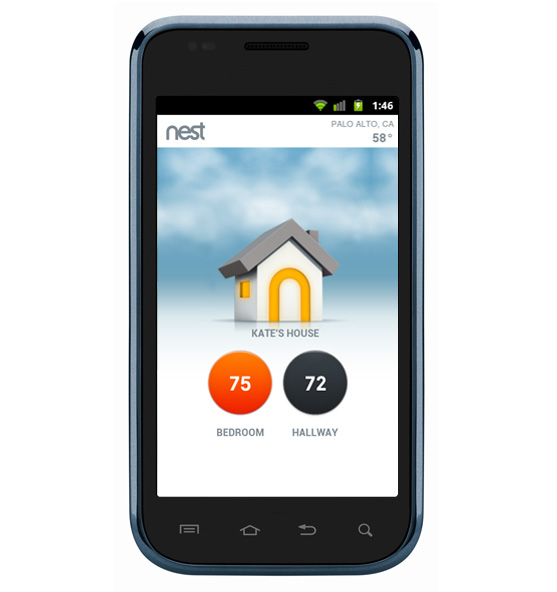 Update 10/2/12: Nest's 3.0 software has upgraded the Nest Web and Mobile apps. The Nest Mobile app now works on all Android tablets, you can see even more detailed Energy History, switch languages, and access more settings. Find out more.
If we've learned anything in the last few weeks, it's that our customers love controlling the Nest Learning Thermostat from bed, work, the car, the tub. Today that's getting a little easier.
I'm excited to announce the Nest Mobile app for Android and a feature update for Nest's iPhone, iPad and iPod touch apps.
Our Android app works with most Android smartphones (no tablets yet) and is free on the Android Market. The Nest Mobile app for Android allows you to:
Check and change your Nest's temperature remotely.
See the Nest Leaf. Look for the Leaf every time you change the temperature to lower your energy use.
Access Settings. Just turn your Android phone sideways into landscape mode and tap the Settings button.
We've also made two much-requested updates to our existing app. Here's what's new on Nest Mobile for the iPhone, iPad and iPod touch:
Copy and paste your schedule. You can now copy a day's schedule and paste it into another day. Turn your phone to landscape mode, then press and hold the day on the left side of your schedule to see your options.
See your home's current temp when Nest is in Away mode. Even if Nest is in Away or Auto-Away mode, you can now see the current temperature in your home. Nest will also show you your Away temperatures: the minimum or maximum temps your home will reach while you're out.
This is just the beginning. There are many more updates to come.
Matt @nestmatt