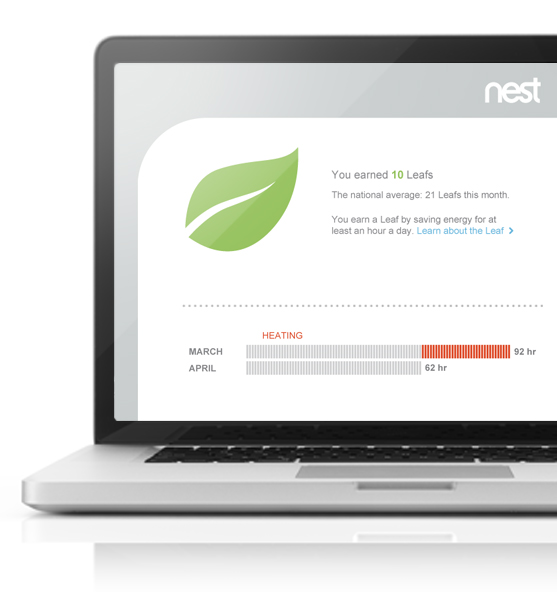 Some of the words we live by at Nest are "know more, save more." So we're giving Nest customers even more info with our monthly Nest Energy Report. Some of you have already been emailed your Energy Report and the rest of you will receive your first report in June or July.
The Nest Energy Report has detailed info about what your thermostat has been up to and a few pointers on how to save more. Every month we'll send a new Energy Report that builds on the info shared the month before.
At the top of the Nest Energy Report, you'll see an overview of how many hours of heating and cooling you've used this month. If you've had your Nest for a while, you'll also get a month-to-month comparison.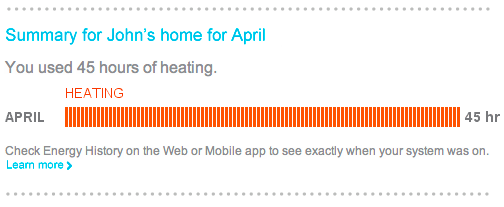 Next the Nest Energy Report tells you how many days this month you've earned a Nest Leaf for at least an hour. We'll also tell you how that compares to the national average.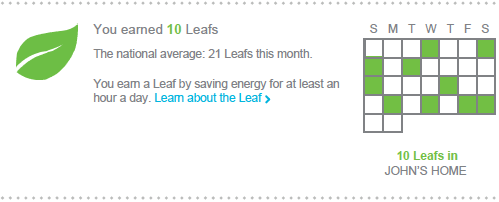 The Nest Leaf is one of the easiest ways to save energy with Nest, so it's a good place to start if you want to get your overall energy use down.
Below that you'll see what Nest is doing while you're gone. Nest activates Auto-Away automatically after you've left the house, but you turn Away on and off manually. You'll see how often both were used this month and if that's above or below the national average.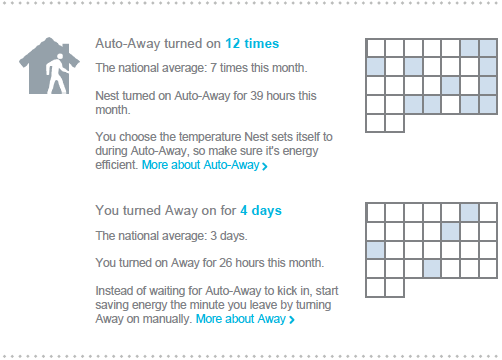 If you turned Nest off completely, the Energy Report will also tell you when.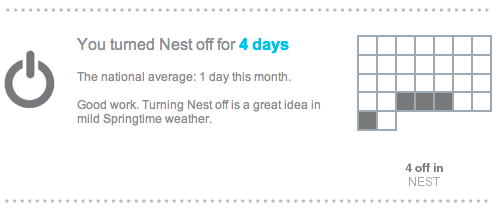 Finally, it's time for the "save more" portion of "know more, save more." After taking a look at your energy use, we'll try to find a spot in your schedule where a simple change can boost your savings. You'll get a new energy saving tip every month.
As you understand what Nest does and how your energy use changes with your schedule or the weather, we think it'll become easy to find places where you can save more. One degree shaved off here, one more Leaf earned there, and next month's Nest Energy Report can be very different.
And as Nest learns more about your home, it's only going to get better.
Get more info about the report here.