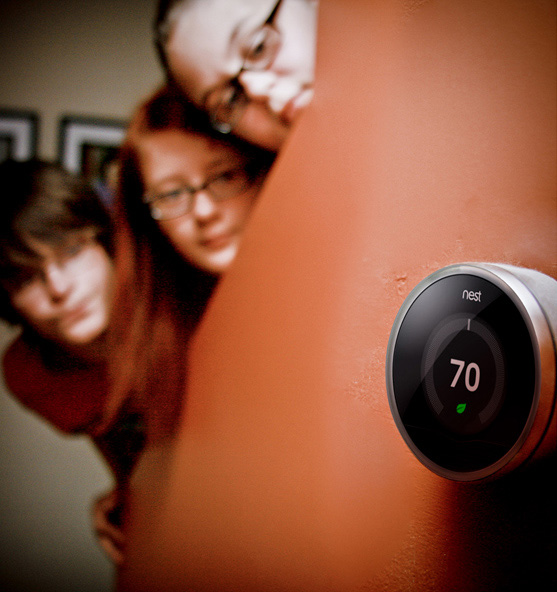 When developing the Nest Learning Thermostat, one of our goals was to create a product that would become a cherished part of the home and bring much-needed attention to energy conservation. Our hope was that it would encourage conversations about energy, and that families would come together in an effort to earn Leafs and drive down their energy bills.
Based on the emails we're receiving from customers, it's clear that Nest has been successful in doing just that. One of my favorites is from Dave Temple in Indiana.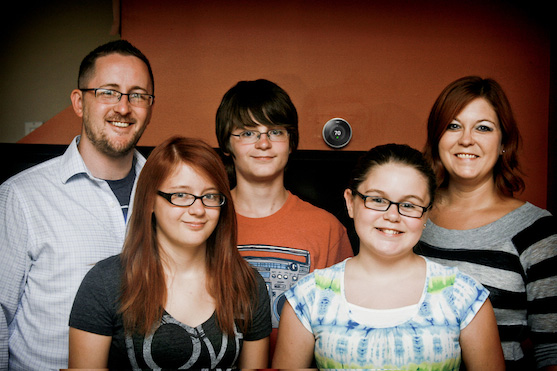 The Temple family: Dave, Emily, Colin, Chloe and Holly
The Nest thermostat is not only lowering Dave's energy bills, it's changing the way his entire family thinks about energy. It's even inspired his teenage daughters to take shorter showers! I was so impressed with Dave's story that I read it at our all-hands meeting. Everyone cheered and encouraged me to share it with the rest of our customers:
I wasn't sure how to get a hold of you, but I just wanted to say a special thank you to Nest. You have changed our lives!
>
We have had the Nest for over two weeks and it has changed our entire family's way of thinking about energy usage.
>
We have three kids, ages 14, 11, and 11. They are energy hogs! Overly long showers, leaving lights on and just generally wasteful. I don't say this to bad mouth my kids. But, since we received our first energy saving leaf with the nest, even the kids get excited! Every night before bed, they wave their hand in front of the Nest to see if there is a leaf.
>
It doesn't stop with the thermostat though. They are also challenging themselves to take shorter showers. The girls limit themselves to 20 minutes and our son limits himself to 5 minute showers. This is a huge change! They ask us to time them now.
>
We also started something new this week. Inspired by the Nest leaf, we now have "The Leaf Awards". Each kid starts with ten credits on a chart. If someone forgets to turn a light off and another person turns the light off, a credit is lost by the one who forgot and gained by the one who shut the light off. It's funny because the kids now argue who turned the light off first! At the end of the week the one with the most credits gets a small prize. The person with the most credits at the end of the month gets a gold leaf award.
>
Anyhow, all of this energy awareness is totally owed to our Nest. We thank you for providing an amazing tool that is also fun. Thank you so much!
>
Sincerely,

Dave Temple
Have a Nest story of your own? I want to hear them. Every one of them.
Share your story here or send it over to matt@nest.com. I can't wait to read it.