We talk a lot about home around here, but for many of us, the amount of time we spend at home is dwarfed by how much of our lives we spend at work. Luckily, the Nest Learning Thermostat works great there too.
In far, far too many offices, the instructions for the thermostat look something like this: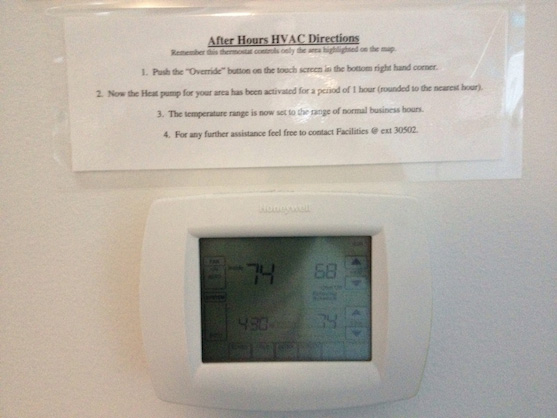 And it could be worse: the thermostat in your office may not work at all.
The Nest thermostat is designed for business. Auto-Schedule will learn when people go in and out of the office, Auto-Away will save energy while everyone's gone, Thermostat Lock will keep co-workers from changing the temperature too much, remote control will give you the power to change the temperature from anywhere and Energy History will show you how much energy your workplace uses.
Set up for business When you're first setting up Nest, it asks if it's installed in a home or a business. If you choose business, Nest will adjust its algorithms accordingly, since Nest knows that houses and offices have different needs.
Auto-Away Nest generally assumes nobody is sleeping in the office - although in offices like ours, you never know - so after everyone leaves for the night, Nest will turn itself down to save energy. When your first coworker comes in in the morning, Nest will automatically go back to your regular schedule. If Auto- Away doesn't make sense for your business, you can just turn it off.
Thermostat Lock We've all been in offices where co-workers change the temperature and then forget to set it back. With Thermostat Lock, you have to enter a code to set the temperature outside of a specified range. It's a simple way to make sure a thermostat out in the open and available to anyone can't be adjusted to make everyone uncomfortable - or drive up energy costs.
Remote control If your company has several offices or multiple thermostats at one location, Nest's remote control feature can come in very handy. Each Nest Account can control up to ten Nest thermostats in two locations, and you can have an unlimited number of Nest Accounts. In a matter of seconds, you can change the temperature or adjust settings across your locations.
Save energy If you're looking to cut costs, teach employees about the Nest Leaf, then look regularly at your Energy History. Every time your coworkers change the temperature, encourage them to try to get a Nest Leaf. Your Energy History and monthly Energy Report will then show you exactly when heating and cooling comes on throughout the day and if your co-workers' temperature choices are increasing or shrinking energy use in the office.
Think Nest would make a difference in your office?
*Main image courtesy of The B Hive Organic Salon in Hillsdale, New Jersey.