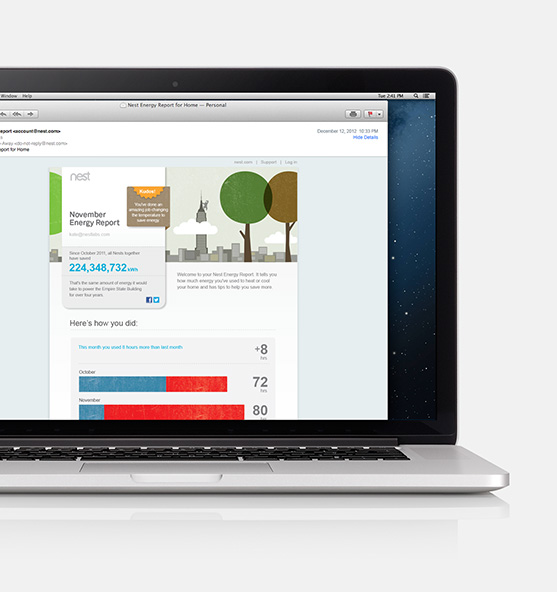 We've completely redesigned our monthly Nest Energy Report—and we're really excited. The Energy Report still gives you a summary of what Nest has been doing in the last month, but now it goes way beyond our original design and is available in multiple languages. When we sent the first Energy Report out back in May, we gave you the basics: how much energy you used, how many Leafs earned and how often you were Away. We asked for your feedback and were rewarded with a flood of requests. Mostly, you wanted to know why: why did I use more energy, or why was this month's energy use so different than the last? You also wanted to see how you compared to others—if you were doing better or worse than your neighbors.
So here it is: your new fully redesigned Energy Report.

It starts with the big picture:
Every month we'll tally how many kilowatt hours of energy Nest thermostats have saved. The total so far is over 200 million, enough to power the Empire State Building for four years. (This, by the way, blew our minds. Amazing job, Nesters.)
You may also see a "Kudos!" at the top of your report. If you did something great—turned down the heat regularly, fixed up your schedule to be more efficient, earned a Nest Leaf every day—we'll be sure to tell you. Your Kudos may also feature a special reward once in awhile, if you're doing a particularly impressive job of saving energy.
Another addition we're excited about at the very top of the report is social sharing. No more screenshots—you can now quickly share the top of the Energy Report on Twitter or Facebook with one click.
Keep scrolling down and you'll get your month-to-month summary.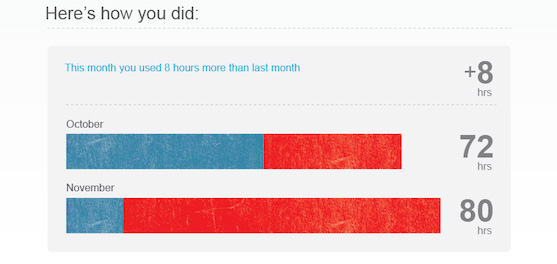 We'll tell you how many hours of heating and cooling you used this month vs last month. Hours of heating are red, hours of cooling are blue. After you've had Nest on your wall for at least a full month—and we have heating and cooling info for most of the month—you'll always see data from this month vs the previous month.
Below that you'll see something new: the why. There are a lot of reasons why your energy use could change: the weather, your schedule changes, your temperature adjustments, Auto-Away and manual Away, Airwave, turning Nest off, adding a new Nest, the number of days in a month, etc. We look at all of them and highlight the top one, two or three that made the biggest impact that month.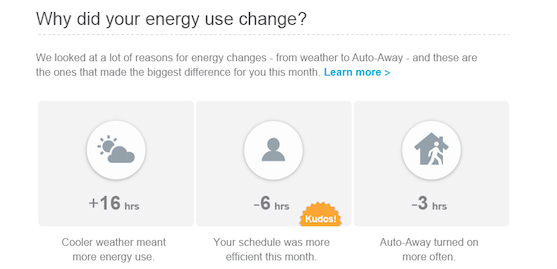 You'll see how many hours of energy each reason added or took away from your month's total to help you understand why your energy use changed.
And now that you know how and why you've used energy, it's time to find ways to use less:

Each month we'll offer a different tip or perhaps a special thank you. We do our research for this part of the Energy Report, taking what we know about you, your home, the weather in your area and how much energy your neighbors are using. The more we know, the more personalized these tips will get.
And as you tweak your schedule and your settings to save more, we know you're wondering how you're doing compared to other Nest thermostat owners. So we added an "Interesting fact" to your Energy Report. This section changes every month, but generally shows you how you compare to other Nesters in your area or around the country.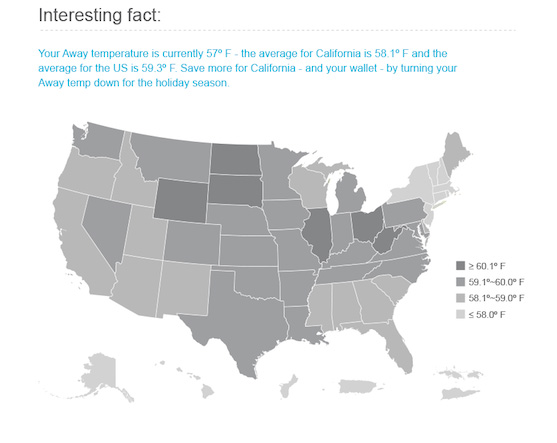 Our inaugural interesting fact is about one thing that could make a huge impact this month: your Away temperature. This is the temperature you tell Nest to turn to when you're not home. An efficient Away temperature could be the best way to save energy in December if you're planning to take a week or two to visit family or escape to Hawaii.
So this month we're telling you how your Away temp compares to the average for your state (or province) as well as the entire country. We also give you a glimpse of how other parts of the country are doing.
One of the first things many of our customers looked for in the original Energy Report was their Nest Leaf count. You earn a Nest Leaf by doing something that saves you energy—like turning down the heat or adjusting your schedule to be more energy-efficient. It's a simple reward for doing something good for your energy bill. In this updated version of the Nest Energy Report, we're simplifying the Nest Leaf section to show you your total Leaf count and let you know if you're earning more Leafs than other Nesters.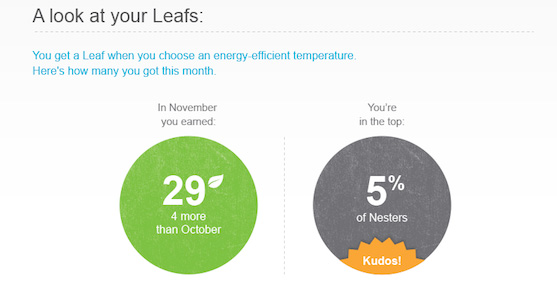 Want still more Nest news? At the bottom of the Energy Report we feature the latest info from our blog. We often explain new features or highlight exciting company developments.

And that's it. We're really excited to bring you more data, more tips, more facts about how people use Nest. And we're not done—we have so many more ideas about how to make the Nest Energy Report better. Look for new updates, info and designs in the coming months.
So, what do you think?