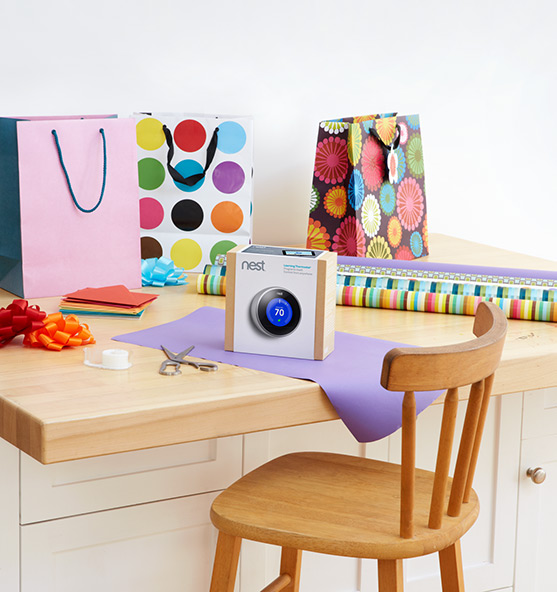 Our second annual holiday gift guide ranges from the reasonable to the sublime to the ridiculous. Once again, we've asked the makers of Nest—everyone here in our office—to share their wish lists. A fun game to play: guess which suggestions came from engineers?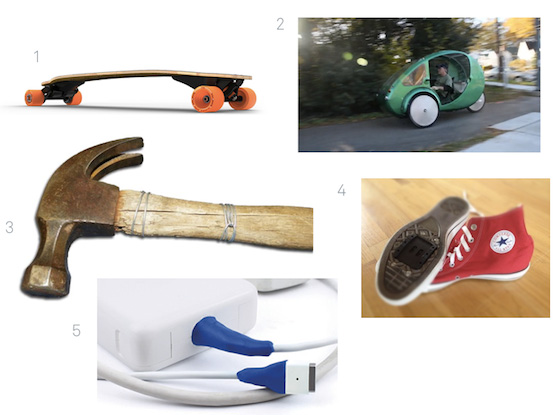 Joseph wants Hue—a personal wireless lighting system that can be controlled from your phone or tablet.
Harry likes it old school. He's planning to hang some Susan Kare prints around his apartment.
Matteo is looking forward to getting a Vitsoe universal shelving system.
Courtney wants to hang up art from Epic Frequency, which turns your audio recordings into paintings.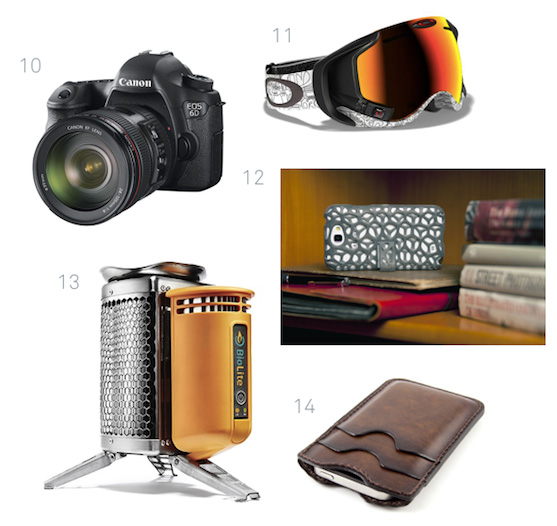 Jeff is wishing for a Canon 6D DSLR camera with built-in Wi-Fi so you can wirelessly share images and video and use your smartphone for remote camera control.
All Giovanni wants for Christmas are Oakley Airwave Snow Goggles. Which yes, look cool, but more importantly have a great name.
Another suggestion from Joseph: customizable 3D accessories from Fresh Fiber.
Daniel wants a BioLite Campstove. It cooks your food and charges your phone.
Alex has been hinting to his wife about this handmade leather wallet/phone case.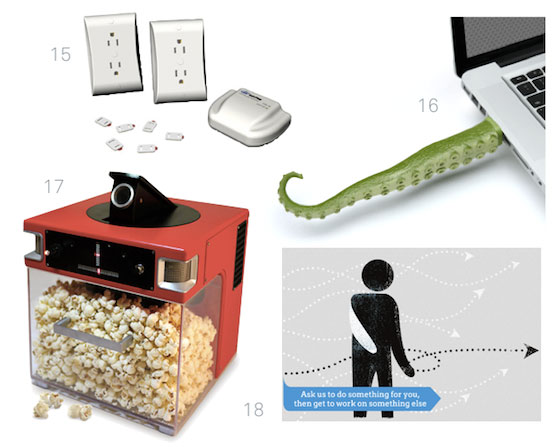 SafePlug Energy Manager Kit may not look like much, but P T really wants it. SafePlug turns off appliances when you don't need them and measures how much energy they use.
From Osborne, a USB squirming tentacle. It doesn't store any data, but it does demonstrate your fondness for Cthulhu.
Perhaps my favorite gift on this list comes from Don. It's the Popinator, a voice activated popcorn shooter that sends a kernel directly to your mouth on demand. Modern technology at its best.
From David comes an interesting suggestion: Fancy Hands. It's a company that runs your errands so you can buy friends and family a bit of productivity.
And of course there's one gift at the top of our wish list. Thermostats may not be the most traditional present, but Nest Learning Thermostats are warmer than a sweater and easier to wrap. They're as smart as an iPod, look beautiful in any home, and can pay for themselves in energy savings.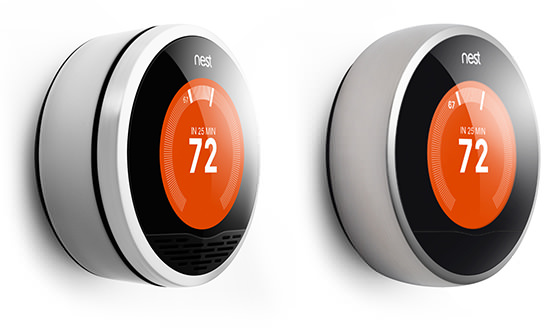 And this holiday season, Nests are available everywhere. You can get yours at nest.com, with or without professional installation, at Lowe's, Amazon, Best Buy, or the online Apple Store. You can also buy the 1st gen Nest on sale at Lowe's.
Looking for a Nest in Canada? Here's where you can pick one up today for Hanukkah or to stash before Christmas.
Happy holidays, everyone. We hope you get—and give—some great gifts this year.