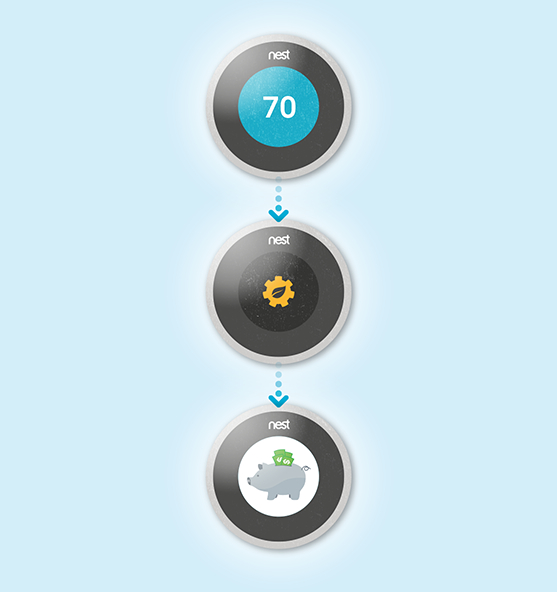 You can't force people to save energy.
We learned that early on at Nest. You can give people tools to help them save, like the Nest Leaf or Auto-Away, but you can't lower someone's heating or cooling bill against their will. Everyone's first demand from a thermostat is comfort and control, so even if you set an inefficient temperature or use energy when it's most expensive, the Nest Learning Thermostat will always listen to you.
Starting today, however, Nest can do a lot more than just follow your lead: with new Auto-Tune technology, Nest can spot perfect, personalized opportunities to save you money and energy and automatically take advantage of them for you. Even better? It makes sure you stay comfortable and in control the whole time.
Introducing Rush Hour Rewards and Seasonal Savings, powered by Auto-Tune. These Nest services are available to customers of our energy partners, progressive energy companies working together with Nest to put a serious dent in your energy bill.
Rush Hour Rewards could help you earn anywhere from $20-$60 this summer—it takes advantage of energy company incentives that pay you to use less energy when everyone else is using more. Seasonal Savings takes everything Nest has learned about you and automatically fine-tunes Nest's schedule to save energy, without sacrificing comfort. Field trials have been impressive: Nest owners have used 5-10% less heating and cooling with Seasonal Savings and 80% said they'd keep their tuned-up schedules after Seasonal Savings ended.
Most importantly, both Rush Hour Rewards and Seasonal Savings leave the customer in control: if you don't like a temperature that they set, you can change it at any time.
These services are new—radically new—and dramatically different than any previous efforts by energy providers and thermostat makers to get their customers to save energy. But they're not new to us—we've been working on them for years. Even before we launched the Nest Learning Thermostat, we were designing our data services with these features in mind.
Everything your Nest learns about you—your schedule, your energy plan, the temperatures you like, when you're home and away, what the weather's like near you, how efficient your furnace is and how leaky your windows are—can now be used to take full advantage of every money-making opportunity and energy-saving tweak that makes sense for your home.
The level of personalization and customer control in these Auto-Tune features is revolutionary to the energy industry. In the past, energy companies that wanted you to use less energy could simply shut off your AC with special thermostats on the hottest day of the year. Or they'd email you with savings tips and hope you remember. Nobody has ever designed energy-saving services with the consumer in mind.
Rush Hour Rewards and Seasonal Savings are designed to be, at their heart, incredibly easy. Sign up for them and Nest will do all the work—you won't have to adjust your schedule or change the temperature, managing your bill through trial and error. Nest will tweak temperatures for you, always keeping your comfort in mind. It'll tell you what's happening, how much it's saving, and let you know before it makes a big change. It'll sense if you're home or not, sleeping or not, and make the biggest adjustments when nobody will notice them.
Everything Auto-Tune features do is personalized for your home and your schedule, and if you don't like it, you can change the temperature and Nest will learn.
It took many, many iterations to get this right. Adjusting the temperature at night by 1°F during the New York winter is one thing, but trying the same thing in the Florida summer is entirely different. Balancing savings and comfort is incredibly tricky, and changes radically for every town, for every home. You can see how we developed this technology—and the trials we've run—in our Seasonal Savings White Paper and Rush Hour Rewards White Paper.
In the meanwhile, we're still working. Currently we have four energy partners offering our new services—Reliant, Green Mountain Energy, Austin Energy and Southern California Edison. Enter your zip code to find out if your energy provider has partnered with Nest, and if they haven't, tell us your email and we'll contact them. We're adding more partners fast.
And Auto-Tune is getting much, much more powerful. We've just begun using energy company data to help you save; we're already working on services that'll track energy costs and not only show you when energy is more expensive, but actually adjust your thermostat to help you keep to a budget while staying comfortable. The more data we get, the more partners we work with, the more we'll help you save.
We're just getting started.