I may be slightly biased, but I believe Nest employs the most fascinating, clever and creative human beings in the world. Also, attractive. When their forces combine, they make the best thermostats, smoke alarms, steaks and gift lists. So, every year around the holidays, we ask the whole company, "What do you want to get (or give) this year?"
Last year's gift list and the one from the year before were delightful, but this year you can really tell our company has practically doubled in size. We've got a lot of people, and they have gift ideas for literally everyone you know:
Toys for kids. Toys for grown-ups: the geeky, slightly less geeky, data obsessed and super stylish alike. Bikes and bike-related things for bikers. Cool stuff for your home. Strange, funny ideas for your strange, funny friends and family.
We've got a lot of gifts to give, so let's get started.
Toys for kids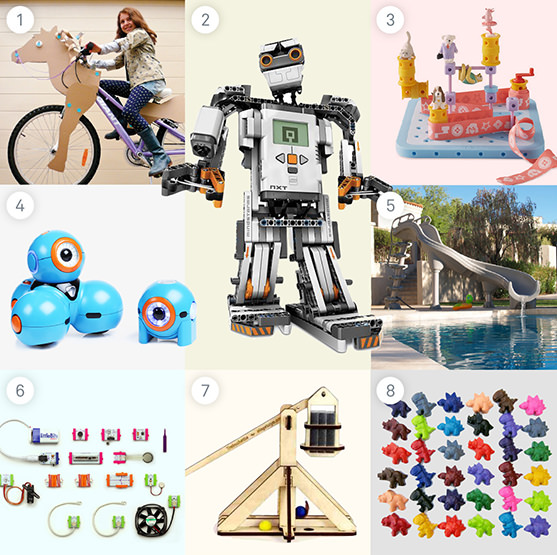 There a lot of engineers wandering the halls around here, so it makes sense that many of the suggestions for kids center around actually building things. A love for programming, science and robots should start early.
Adam suggested the fantastic Makedo kit, which lets kids make virtually anything out of cardboard.
My co-founder Tony is getting his kids LEGO Mindstorms which lets them build a working robot of out LEGOs. He's also a fan of LEGO Architecture Studio to get kids building.
Shiney is bypassing the dolls and dresses and getting her 5-year-old neice Goldieblox.
Patrice wants to give out these Play-i robots that fuse play and programming.
To get his kids outside, Gene's got his eye on this Interfab pool slide. That should do the trick.
Andrew wants to give littleBits kits to help kids create their first circuit and invent their own toys.
Snap together desktop siege weapons, anyone? Shyam's a fan of the trebuchet.
Julia's nieces and nephews are a little too young to program robots, so they're getting these fantastic dinosaur crayons
Toys for grown ups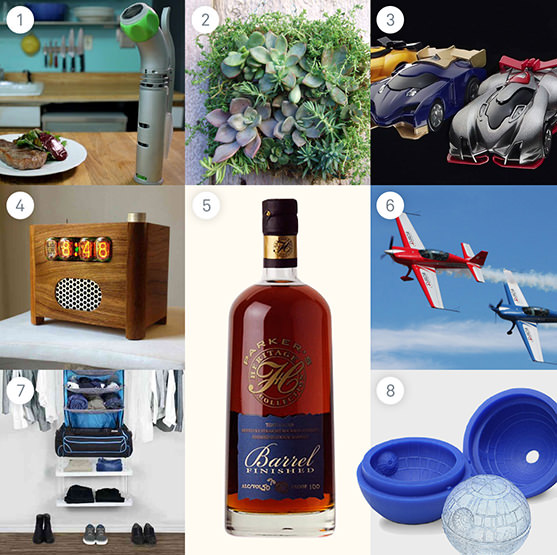 For the geeky and non-geeky alike, we've gathered a ton of ideas that any adult worth their salt would love to see under the Christmas tree (or non-denominational fern of your choice).
Jeff is going to souve. vide. everything. with the handheld Nomiku immersion circulator.
Daniel W. is giving out vertical gardening classes so his friends and family can build living walls.
I want Anki Drive, the best thing that's happened to my living room floor since my first Hotwheels.
Mark H. wants a Nixe Ramos alarm clock, his last hope of waking up on time. It makes you punch in a code to turn off the alarm in the morning.
Matt H. may have picked out the best grown-up gift of all: Parker's Heritage Collection 5th edition 10 year Cognac Barrel Finish Bourbon.
Matthew wants to go to Vegas for a little air-to-air combat with the Sky Combat Experience.
Mark K. will no longer have to empty his travel bag every night with this fold-out Weekender Bag.
All Eamon wants for Christmas is an ice cube in the shape of the Death Star.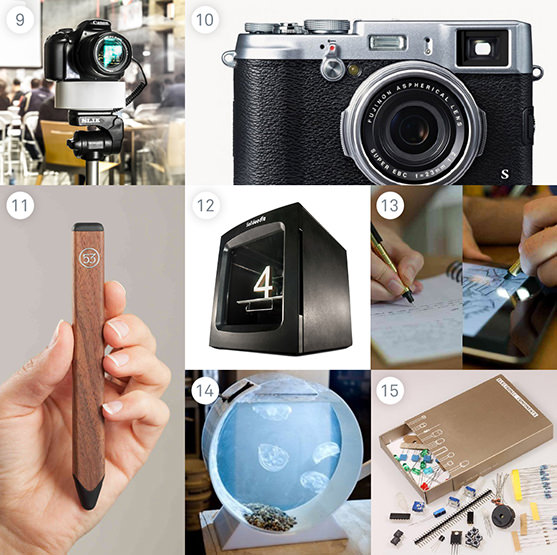 For everyone who loves monitoring everything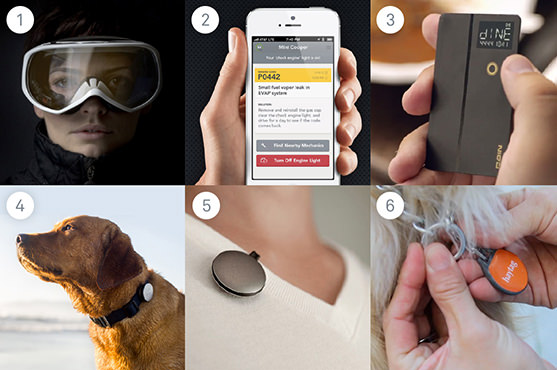 Things are getting really interesting in the self- and puppy- and money- and car-monitoring space lately. These Nesters are getting in on it.
John wants these Snow 2 goggles that show you a heads-up display with performance metrics.
Jeff doesn't care about his own health, but he's obsessed with his car's. So he's tracking it using Automatic.
Eduardo wants to stop losing track of all his credit cards. He just wants Coin.
Debra wants to keep an eye on her dog's activity and rest time with Whistle.
Evelyn is sick of wristbands. She wants Shine to track her health and activity levels.
Tucker wants a HayTag for his pup. It alerts you when your dog or cat wanders away and is a practical way to find them when they're lost.
Stylish gifts for stylish people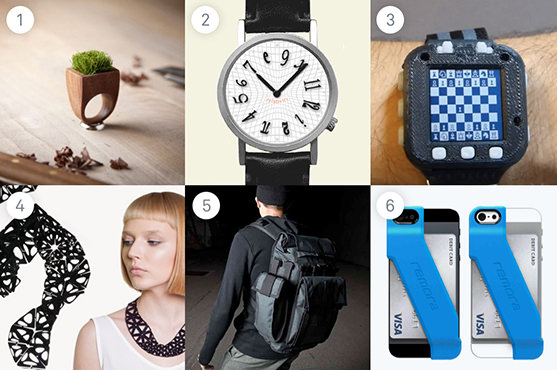 Gifts for the home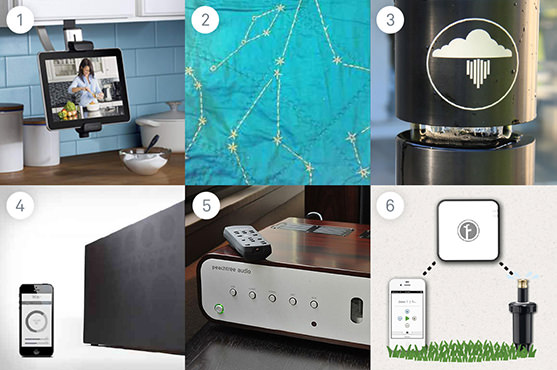 For the bikers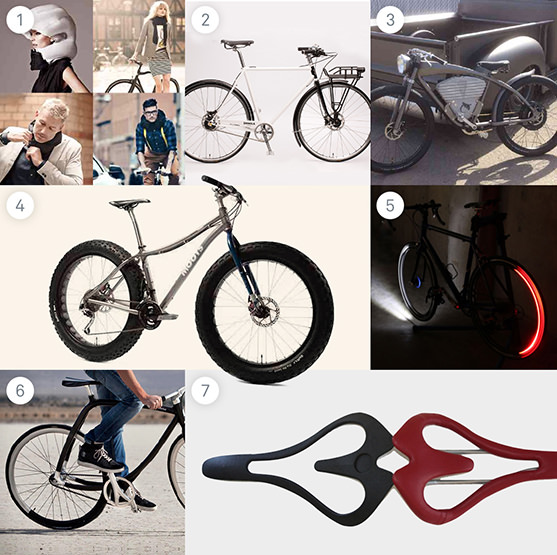 About 10% of Nest employees bike to work, so it's not shocking that a lot of the suggested gifts this year are bike-related.
Louise wants an invisible bike helmet.
Paul would love this limited edition Runwell.
Alberto would prefer an electric bike.
Matteo wants to bike in the snow.
Arjuna wants her bike to light up.
Melissa wants this ultra sleek Rizoma
Ben wants to bike in comfort with the Infinity Seat.
For the slightly strange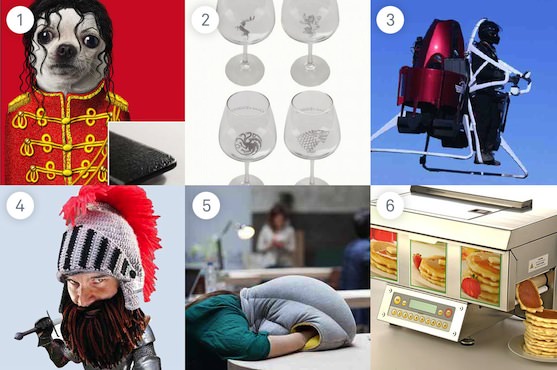 Among our fascinating, clever, creative and attractive employees, there are a few delightful weirdos with delightfully strange suggestions.
Nevin loves everything Takkoda. They have cards, cutting boards and flip-flops of people with dog heads. It is, in a word, fantastic.
Zach wants Game of Thrones House Sigil goblets.
Jonathan just wants a jetpack. Is that so much to ask?
Peter wants a perfectly reasonable bearded barbarian knight hat.
Julia claims this ostrich pillow is incredibly comfortable for traveling. I believe her. I also believe it will also make you look incredibly odd.
Daniel doesn't need a 3D printer. He needs a pancake printer.
And, of course, we've saved the best for last. Everyone's favorite gifts this holiday season?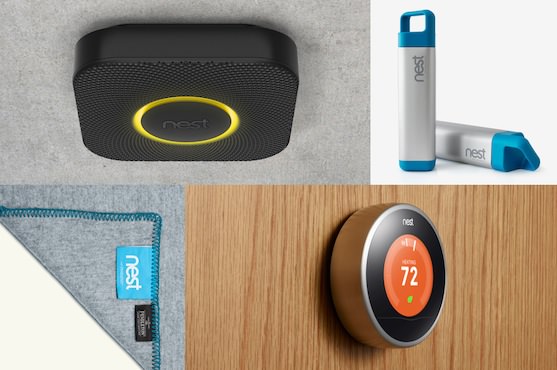 The Nest Learning Thermostat and Nest Protect smoke and carbon monoxide alarm. We're also selling fantastic Clean water bottles and cozy Pendleton blankets from the Nest Store.
Stay warm, stay safe, stay away from giving everyone socks.