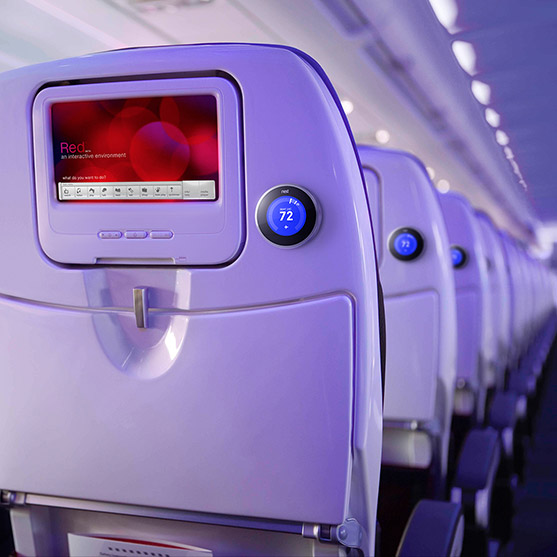 We have all been there. You're in terminal A. But your connecting flight is in terminal B. Suddenly you're competing in the LAX 5K. A full gate-to-gate sprint to make your connecting flight. Sweaty, hot and uncomfortable, you get to the gate just in time to begin your journey across the country. You find your seat, reach up, twist the nozzle and are greeted with a soft puff of air.
Imagine if you could have your own climate control for the next 5 hours. A personalized Nest-controlled microclimate right in your seat. Now you can.
Nest reinvents unloved products like thermostats and smoke alarms. And Virgin America has reimagined what it means to fly. Virgin America is on a mission to make flying great again and year after year it ranks as the top domestic airline in the US. A Nest and Virgin America partnership has always seemed like a natural one to us. And today, our dream partnership becomes real.
For almost a year, Nest engineering teams have secretly worked side-by-side with Virgin America's in-flight team to create a one-of-a-kind travel experience. By the end of 2014, the Nest Learning Thermostat will be seamlessly integrated in the seat back of both first class and the main cabin across the entire Virgin America A320 fleet. First to get Nest Thermostats and Total Temperature Control will be routes serving Boston and Newark from both San Francisco and Los Angeles.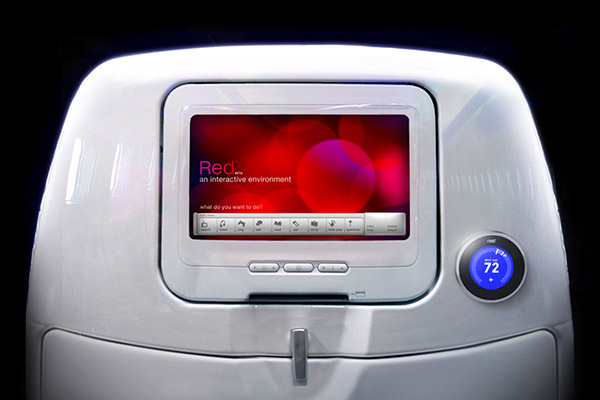 So what does this mean for you? How does this make flying great again? To start, each traveler will have a Nest to control their own personal cabin temperature. No more reaching over your neighbor to fiddle with the knob on the ceiling panel to get cool or dressing in layers to stay warm. Now you can get precisely the temperature you want for your seat. If you're a Virgin Elevate member, the Nest Thermostat will learn your favorite temperatures so your seat is just the way you like it when you step on board. If you happen to be in an exit row and your personal Nest is too far away, you can even control it with the Nest app.
For the Nest Thermostat itself, our engineers have created a VX Mode version of our software. It takes into account every aspect of Virgin America's on-demand Red Network including your beverage order. Order a cold drink with ice and Nest will cool the temperature by a few degrees so your ice doesn't melt. Order a hot cup of coffee and Nest will increase the temperature a few degrees so your drink stays warm. Nest's user interface has also been updated to match the Virgin America mood lit cabin. Nest's cool blue has been changed to match Virgin America's purple hue.
In addition, we've created an all-new Nest feature called Destination Acclimation, which automatically mimics the temperature of the city you're traveling to. Spending a few days in Cancun? You'll be nice and toasty. Visiting Portland for the weekend? It will be more chill. Your arrival city is selected automatically but you can also choose custom settings such as Tropical Paradise, Standard Day in LA or Polar Vortex.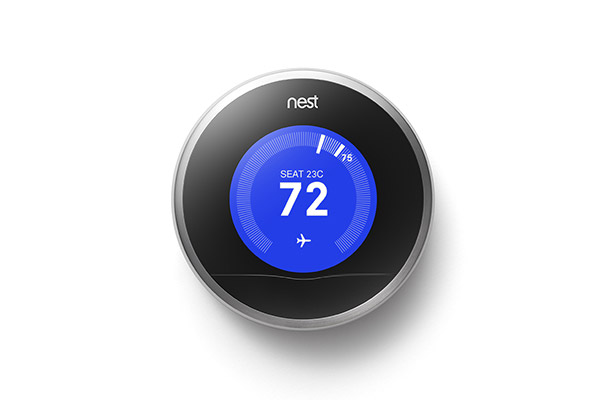 Lastly, we've integrated Nest's Auto-Away feature which senses when you're sitting in your seat or you're away to save energy. Get up to go to the restroom and Auto-Away goes into effect, displaying the Nest Leaf to let you know everything's off and you're saving jet fuel. Return, and the temperature goes right back to how you like it.
Nest and Virgin. Together we can make flying great again.