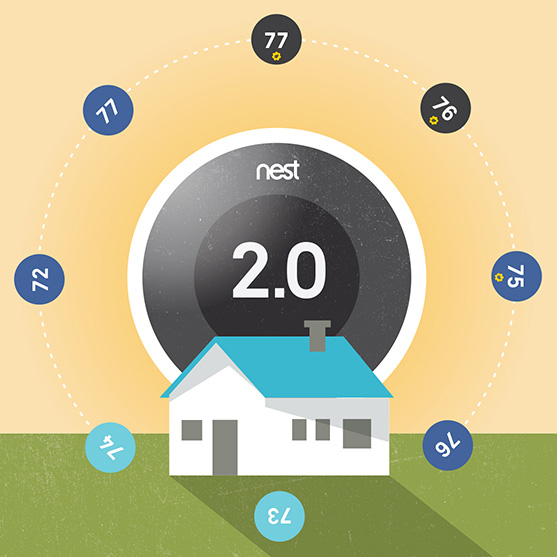 A year ago, we introduced our Rush Hour Rewards (RHR) and Seasonal Savings programs, as well as our first energy partners. And what a year it's been. Rush Hour Rewards and Seasonal Savings aren't just working; people are actually excited to participate in them.
Rush Hour Rewards helps people earn money or credits from their energy providers by using less energy when everyone else is using more. With Seasonal Savings, a Nest thermostat uses its knowledge of a customer's preferences to gradually fine-tune the temperature schedule to help save more energy.
To date, Rush Hour Rewards has helped achieve an incredible 55% reduction in energy use during peak times. Of course, customers are always in control and can adjust the temperature at any time during a Rush Hour event. That said, last summer, just 14% of RHR participants changed the temperature during an event, an indication that Nest's approach to demand response keeps customers comfortable and in control while allowing energy companies to manage peak energy loads.
We've seen one-size-fits-all demand response programs that are not personalized and lock customers out of their climate control. Can you imagine a scorching hot day and not being in control of your home's temperature? Understandably, people don't seem too excited about participating in that kind of program. Particularly on a hot day.
Not to be outdone, Seasonal Savings helped reduce AC usage by 4.7% on average by automatically making small temperature adjustments over time for participating customers. And we do mean small. These savings are from typical temperature changes of less than 1 degree. That's probably why 89% of our customers said they were just as comfortable as before participating in Seasonal Savings. This unique program shows that small changes can make quite a difference without sacrificing comfort or requiring daily behavioral change.
This summer, we're making RHR and Seasonal Savings even better by introducing new features. We're also adding energy partners and extending our energy savings solutions to more people across the US, Canada and UK.
Rush Hour Rewards 2.0
In the past, an RHR event would last two to four hours, depending on the energy partner's best guess of AC needs during a heat wave, and customers were notified the day before. Rush Hours Rewards 2.0 introduces on-demand events that last just 30 minutes. This option gives energy companies the ability to react quickly to rapidly changing weather. So when it's unexpectedly hot outside and everyone cranks up the AC, power companies can act quickly to balance energy needs instead of having to guess the day before.
Customers are always in control and still get a notification if they'd like (by changing the settings in the Nest app), but with these shorter events lasting only 30 minutes, they likely won't even notice the slight change in temperature. Learn more.
Seasonal Savings 2.0
Seasonal Savings 2.0 is better because it's even more personal. Previously, we set specific dates to begin making adjustments around the start of summer and winter. Now, taking into account that summer comes earlier to Southern California than it does to Maine or Michigan, Seasonal Savings considers both customer preferences and local climate changes in determining the best start date for each home. And of course, customers can change the temperature at any time. Learn more.
New Nest Energy Partners
We're adding new energy partners in the US including Columbia Gas of Ohio, ComEd, CPS Energy, and Direct Energy. We also added our first partner in the UK, npower. These new partners bring exclusive offers including instant rebates, account credits and bundled plans for the Nest Learning Thermostat as well as introduce new ways to save energy with RHR and Seasonal Savings to new customers in time for the hot summer months.
You can find out if your energy provider is partnered with Nest here. If your energy provider doesn't participate in RHR or Seasonal Savings and you'd like them to, let us know. Better yet, let your energy provider know.
Last summer's results were impressive, but with our new Seasonal Savings and RHR features – plus our new energy partners – we can't wait to see what kind of impact we'll make this summer.