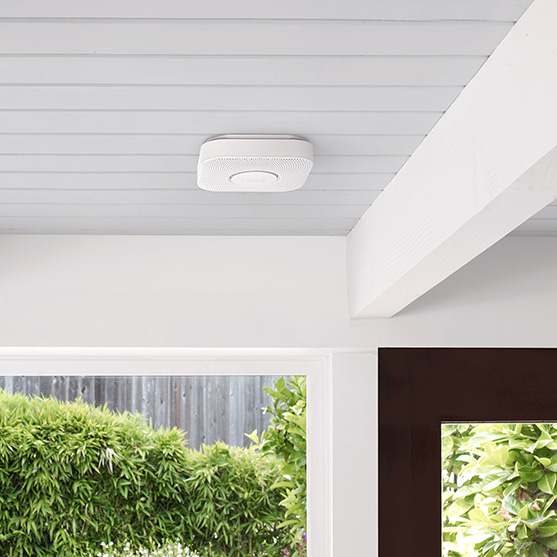 We believe Nest Protect is the best smoke and carbon monoxide (CO) alarm out there. It's designed to give you the information you need in an emergency. And that makes you safer.
But our focus on information doesn't end there. With hundreds of thousands of Nest Protects already installed and connected to the Internet, we're able to analyze actual CO events on a scale that's never been done before. CO poisoning kills over 400 people a year in the U.S. alone, according to the Centers for Disease Control and Prevention. We're dedicated to seeing that number decline.
Real-life data.
The comprehensive, anonymous data we've collected will help fire service professionals, safety experts and consumers better understand CO events in real homes. It will help us constantly improve our products. And it will help our customers stay safe.
Our first CO white paper contains several notable findings about the nature and length of CO events, including:
• 0.15% of homes experienced a CO event per month between November 2013 and May 2014.
• Peak CO levels ranged from 70 parts per million (ppm) to 1,964 ppm, with a median of 142 ppm. Health officials consider 70 ppm the minimum threshold for a CO alarm. (Source: U.S. Consumer Product Safety Commission)
• The length of CO events ranged from 3 minutes to over 24 hours, with a median of 1 hour and 17 minutes.
• Nest Protect's data suggests that at least one million households across the US, UK and Canada are exposed to high levels of carbon monoxide each year.
Our goal is that our groundbreaking research will help shed light on how actual CO events unfold. Because behind all the numbers are real people experiencing very real emergencies. Like Lucas Wollermann.
A real-life story.
Lucas had just returned home after a long roadtrip, and he was ready to relax. But his nap was soon interrupted by a Heads-Up from his Nest Protect. It had detected rising CO levels. After checking around his home and not finding a problem, Lucas figured the warning was a mistake and returned to his recliner.
A few minutes later, his Nest Protect spoke up again. The CO level was now dangerously high. Nest products communicate with one another behind the scenes, so his Nest Protect automatically told his Nest Thermostat to shut off the furnace.* Faulty heating systems are the most common cause of CO emergencies, and turning off the furnace can prevent the situation from getting worse. Lucas checked his furnace and other gas appliances. But again, he didn't see anything wrong.
Because carbon monoxide is odorless and invisible, Lucas didn't know if he had a CO problem or a CO alarm problem. To be safe, he opened the windows and let in fresh air. A few minutes later, his Nest Protect said that CO levels were returning to normal. That's when Lucas knew that his Nest Protect was working perfectly. Something was pumping CO into his home.
"I may have just fallen asleep without even knowing I was slowly suffocating."
Lucas took a closer look at his furnace and discovered that the vent pipe had disconnected from a fitting. His furnace was filling the basement with CO.
Lucas is thankful that he had both Nest Protect and the Nest Thermostat. "At the very least, my furnace wouldn't have automatically shut off if I didn't have both," Lucas said. "I may have just fallen asleep without even knowing I was slowly suffocating."
His home has eight old, wired-in smoke alarms, but none of them had the ability to sense CO and warn for high levels. Lucas plans to replace them all with Nest Protects. He explained, "It only took one Nest Protect to do what all eight of them combined couldn't do – save a life."
We love hearing our customers' stories. They cut through the day-to-day details of our work – the emails, status meetings and reviews – to remind us what's really important. That our work is making a difference in people's lives.
We're very pleased that Nest Protect is once again available to customers. And now, the price is $99 to make it accessible to as many people as possible. Because we want to see more CO emergencies end up the way Lucas Wollermann's did.
Do you have a story you'd like to share with us? Please get in touch at firesafety@nest.com.
*This feature requires a working Internet connection and Wi-Fi.