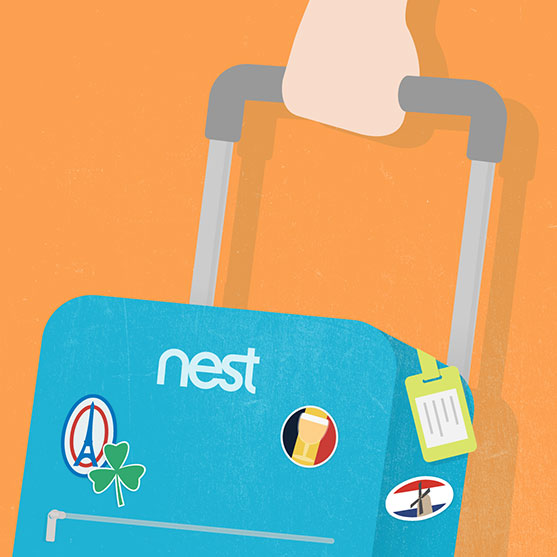 For the last two years, there's been a thermostat underground. With Nest available in just the US, Canada and the UK, people have hidden Nest Thermostats and Nest Protect alarms in suitcases, had them shipped over by friends, bought them on eBay and installed them in over 120 countries.
Soon the people of Belgium, France, Ireland and the Netherlands will be able to just buy the Nest Learning Thermostat and Nest Protect smoke and carbon monoxide alarm themselves. In a store. In 400 stores by the end of the month, in fact, and more to come. And the Nests they buy will speak to them in the language of their home country.
There's already been huge demand for Nest products in Europe - in the UK, we've expanded by 100 stores since April. And the number of Nest Professional installers in the UK has grown from 200 to over 900. We're also building our energy partnerships in Europe, and energy companies like npower are already including Nest Thermostats with their plans to help people save.
Customers have been pouring in and leaving reviews - on Facebook, on Amazon - and telling us Nest has changed the way they think about their homes.


Part of it may be how the rest of their home connects to Nest - how your Mercedes can tell your thermostat you're getting home soon, or the Nest Protect can flash your LIFX bulbs when there's a fire. When everything Works with Nest, suddenly there's a lot less to worry about.
And that's the feeling we can't wait to bring to Europe. This month people in Belgium, France, Ireland and the Netherlands can install Nest in their houses, chateaus, canal homes and cottages. The rest of the world isn't very far behind.