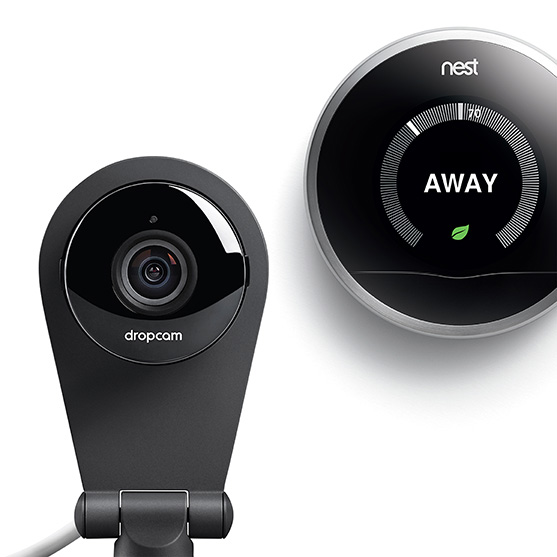 Last year at the CEDIA expo we announced our plans for the Nest Developer Program. It was a good place for that announcement - CEDIA stands for the Custom Electronic Design & Installation Association, and it's the meeting place of the home technology industry. This year at CEDIA, we can announce our success - developers have come pouring in and Nest now works with a whole family of products. Today that family includes Dropcam and, at long last, leading whole-home automation systems.
Over the last year, our focus has been connecting Nest Learning Thermostats and Nest Protect smoke and carbon monoxide alarms to the rest of your home. We launched Works with Nest with partners like Whirlpool, Jawbone and LIFX, forming connections that instantly made sense - a dryer that knew not to run when energy prices were high, light bulbs that flashed when your smoke alarm went off.
Now we've added Dropcam to Works with Nest. When your Nest Protect alarm goes off, Dropcam records a clip of the smoke or carbon monoxide event and saves it for you, regardless of whether you pay for Cloud Recording. And when you set your Nest Thermostat to Away and walk out the door, Dropcam automatically turns on motion alerts so you'll know if anyone's in the house. You can buy Dropcam in stores and online - and starting on September 18th phone support will be available through Nest.
Our other major announcement at CEDIA is that Nest products now work seamlessly with URC, RTI, Crestron and Control4. These whole-home automation systems integrate different aspects of your home, like lighting, music, video and security. Now you can connect your Nest products to the same system you use to control everything else - so you can adjust the Nest Thermostat through your Control4 app or have your RTI system get an alert when your Nest Protect senses smoke or carbon monoxide.
So this year, when you stop by booth 1460 at CEDIA, we'll be able to show you all the ways Nest can connect to the home. We have proven, successful integrations with individual products and home control systems. And Works with Nest is only growing.