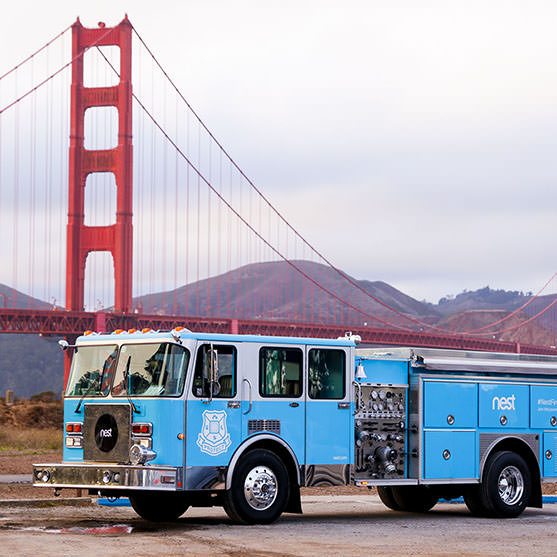 The big blue Nest Fire Truck is back on the road. And this time, we're heading across the country to meet more people and see more places in our Nesty, bio-fueled, bought-on-Craigslist, retrofitted by West Coast Customs, beloved by all, beautiful blue behemoth.
To kick off Fire Prevention Week, we headed to the city where it all started: Chicago. In 1871, the Great Chicago Fire left more than 100,000 people homeless—and Fire Prevention Week was established as a way to stop fires across the country.
At Nest, that's a mission we can get behind.
The Nest Fire Truck lets us demo the Nest Protect - including voice alarms, Heads-Up and the Nest app - and teach the kids that swarm the truck (and their parents) about the dangers of smoke and carbon monoxide.
For example, did you know that:
In the 1970s, it would take about 30 minutes for a fire to take over a room. Today, it can take as little as five minutes.
During a fire, families are twice as likely to know something's wrong if they have interconnected alarms - where a fire in one area of the home sets off alarms in other areas - but only 25% of homes actually have interconnected alarms.
Candle fires are more common than we think. On average, 32 candle fires are reported every day.
Two out of every five home fires start in the kitchen.
An escape plan can make the difference in an emergency. But according to an NFPA survey, only one in three Americans have developed and practiced one.
We think it's time to get the word out. And we're doing it in a big blue fire truck. Here's our schedule: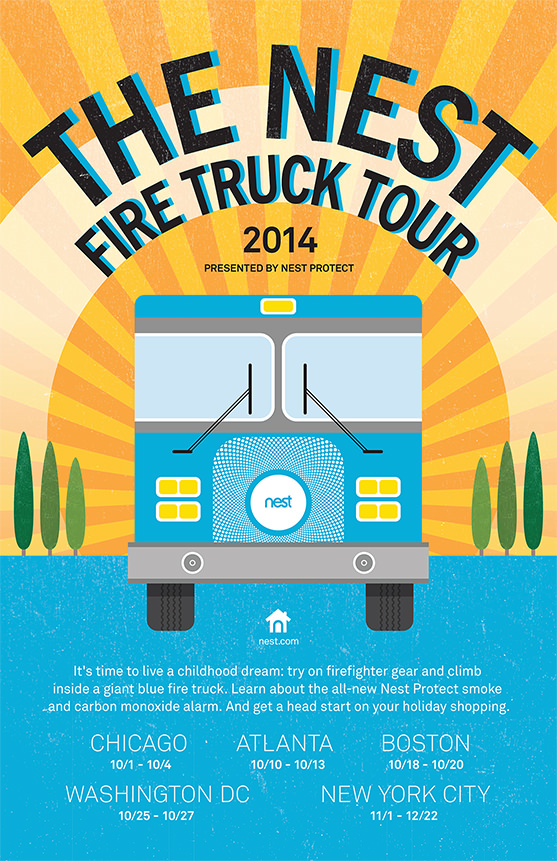 Keep an eye out for the truck and let us know if you see it. We'll be at #nestfiretruck. You can also follow along on Nest's Instagram, Twitter, or Facebook page for helpful tips about fire prevention throughout October.
And for a behind-the-scenes look at how the Nest Fire Truck was born, check out West Coast Customs on Fox Sports 2. We'll be on November 30th at 10pm EST/7pm PST.