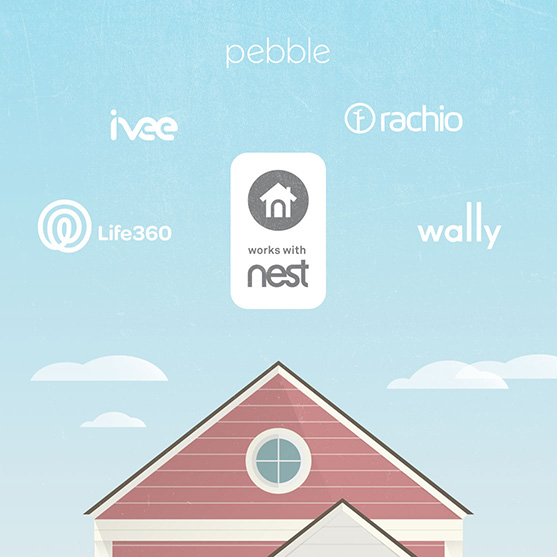 Developers love it. Our customers love it. So Works with Nest just keeps on growing.
Today Nest works with everything from apps to whole-home automation systems, light bulbs to washing machines, garage doors to the cars that park in them. Together they can do all kinds of thoughtful things. Like how Nest works with Jawbone: When your UP24 fitness tracker notices you're awake, it can tell your Nest Thermostat to start warming up the house before you even step out of bed.
We're working with thousands of developers of all sizes – global corporations, startups, and even hobbyists. And today, I'm happy to welcome the following startups to the Works with Nest family:
• ivee - This voice-activated home assistant lets you know when a Nest energy rush hour is about to start or finish.
• Life360 - The family app that'll let Nest know once everyone's gone for the day so you don't waste energy heating an empty home.
• Pebble - Change the temperature and set your Nest Thermostat to Home or Away from your Pebble wristwatch.
• Rachio - If Nest Protect senses smoke, the Rachio controller can automatically turn on sprinklers around the house.
• SNUPI Technologies - With WallyHome, the wireless sensor system for your home, your Nest Thermostat knows not to heat or cool an unused room.
We've been adding to Works with Nest behind the scenes too. As of today, Revolv is now officially a Nest company. Their experience connecting devices around the home will help us continue to grow Works with Nest and bring the conscious home to life.
Want to help us grow Works with Nest? If you make a product or service that could connect with Nest, we'd love to see it.
Google Ventures and Kleiner Perkins created the Thoughtful Things Fund and are looking for entrepreneurs and emerging companies that can help build the connected home. So submit your ideas. They'll be hosting the first Thoughtful Things Fund event on Nov 19, where developers can attend workshops and get one-on-one guidance on ways to build their company. If you missed out on this event, stay tuned – there will be more to come.