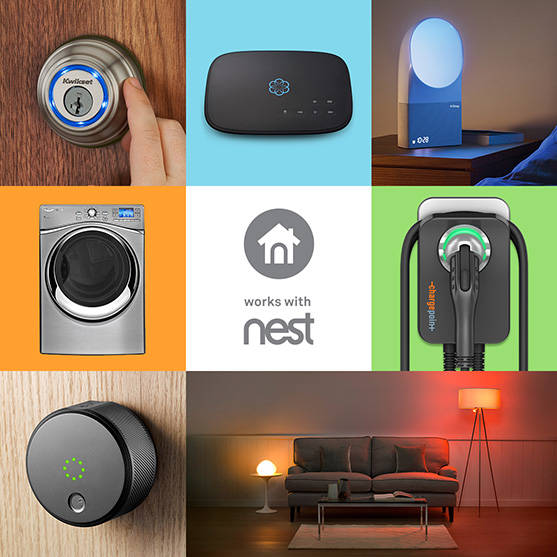 A car charging station that lets you know when energy prices are high.
A washer and dryer that automatically run on a quieter mode when you're home.
A phone service that automatically forwards calls to your cell when you leave the house.
Things that magically happen around your house aren't just sci-fi anymore. They're real-life Works with Nest connections. And they're already being used by 1 in 10 Nest customers, in 90 countries, just 6 months after launching.
We'll be showing off our latest connections at the Consumer Electronics Show this year in over a dozen booths and meeting venues around the event. You can't miss us.
Here's a sneak peek of some things to come:
• August Smart Lock - August Smart Lock can set your Nest Thermostat to Home when you unlock your door and immediately start warming or cooling the house. Lock your door on the way out and it will set your Nest Thermostat to Away to help you save energy.
• ChargePoint - If you're signed up for Nest Rush Hour Rewards, your thermostat can let your charging station know when energy is in high demand so you can avoid charging your car when electricity is most expensive.
• Kwikset Kevo - Kevo Smart Lock tells your Nest Thermostat who's home and what temperatures they like. It also helps Nest know when no one's home so your thermostat doesn't waste energy.
• Ooma - Ooma VOIP home phone service works with Nest to learn when you come and go. So if something unexpected happens – like your kid doesn't come home from school on time – it can send an alert to your phone.
• Philips Hue - When Nest Protect senses something's wrong, your Hue lights can flash on and off to get your attention.
• Whirlpool - Your Nest Thermostat can let your washer and dryer know when you're home and they will automatically switch to quiet mode.
• Withings - Go to sleep and your Withings Sleep System will set your Nest Thermostat to a comfortable nighttime temperature. Wake up and it will tell Nest you're ready to start the day.
See more things that work with Nest >
Come find us at CES. We'll be at the show with all of the latest Works with Nest connections. See you in Vegas.