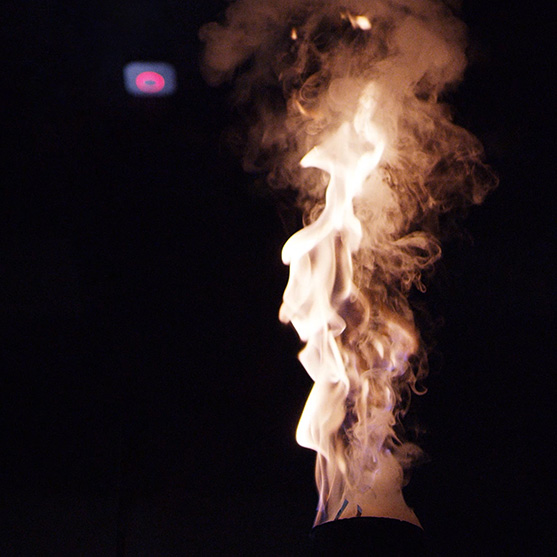 When you put Nest Protect onto your ceiling, you trust it's going to keep you safe, warn you if there's danger, and give you enough time to get out in an emergency.
But most people don't even know if their smoke alarm is working. What if the batteries are dead? Or the sensor's expired? How do you know it will alert fast enough if something goes wrong?
Since 2013 when we released our first Nest Protect smoke and CO alarm, we've been perfecting our design and refining our technology. We know people depend on it to save their lives. So with our 2nd generation Nest Protect, we spent an incredible amount of time testing it. And testing it. And testing it some more.
Here's how:
One of the first things we did was take our new Nest Protect to Underwriters Laboratories (UL). They test and certify all kinds of products to make sure they're safe for us to use, so you know your toaster isn't going to spontaneously combust, that your pillow isn't giving off poisonous gases, and that your life jacket will float when you need it to.
With Nest Protect, the initial tests were pretty straight forward. Could our new Split-Spectrum Sensor detect smoke from wood? Paper? Gasoline? Then the tests got more creative. Would Nest Protect work if someone dropped it while trying to install it on the ceiling? What if it got banged up during delivery? Or the temperature got super high? Would it melt?
Even though Nest Protect passed all the standard tests a smoke alarm needs to be sold in the US, Canada and Europe, we wanted to know more. To make sure it worked not only in traditional homes, but modern homes too.
In the 1970s it took about 30 minutes for a fire to take over a room. But today it can take as little as 5 minutes. Mostly, that's because of modern materials like the plastics and foams used in modern furniture.
So we asked UL to do extra tests – tests that aren't even required by the industry. We wanted to make sure Nest Protect could detect smoke from these newer materials, and that it could do it fast enough to give families enough time to escape in an emergency.
Nest Protect passed again, but still we kept testing.
A lot of people rip their smoke alarm off the ceiling because it goes off when it's not supposed to – like if dust or bugs get in, or if you take a long steamy shower. So we designed a smoke chamber that could let smoke in while keeping dust and bugs out, and an algorithm called Steam Check that can tell the difference between steam and smoke. Then we built our own tests to make sure they work.
Because some of this technology has never been used in home smoke alarms before, there weren't any standards or tests we could compare ourselves to. So we designed our own. We built aquariums full of dust. Put pieces of fruit inside Nest Protect to see if bugs could get inside. We cooked steamy bowls of pasta and took hot showers.
Then once we knew it worked in a lab, we started testing it in real homes, against real-life pizzas forgotten in ovens, candles flaming too high, kids throwing a frisbee in the house or furnaces leaking carbon monoxide gas.
And Nest Protect passed. And passed. And passed. So you know it will keep you safe. Every single day.
We're extremely proud of our new Nest Protect. And while people start putting it in their homes, we'll be back at the lab thinking of new ways to test it, new ways for Nest Protect to be the best smoke alarm it can be. If you have any suggestions, you can always drop us a note. We'd love to hear from you.