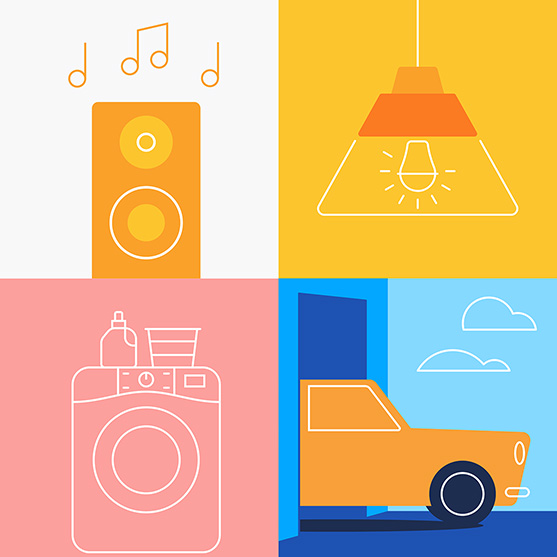 Sure, having a smart home sounds great: You wake up, the room is cozy, the lights turn on, the coffee's ready downstairs. But with most home automation platforms, you have to set a timer on your lights, program your thermostat and tell your coffee machine when to turn on. It's a lot of work. And definitely not automatic.
At Nest, we wanted to do better. We didn't want to just make another "smart" home. We wanted it to be thoughtful.
So a little over a year ago we launched Works with Nest.
Today we have over 11,000 developers working with Nest. And 1 in 8 Nest homes have Works with Nest connections up and running. Lights automatically turn off when no one's home. Stereos quiet down when a Nest Protect alarm goes off. And washing machines know not to run when energy is in high demand. All without any programming.
And we're just getting started.
A few months ago we added a new Nest product to the family: Nest Cam. It lets you see your home on your phone. And sends alerts if it notices motion or sound while you're away.
So imagine if Nest Cam could help some of the things you use every day do their jobs in interesting new ways. With the new camera API, we're giving developers a new way to connect their products to Nest Cam. A few companies have already gotten started. Here's what they've built:
SkyBell video doorbell: You can turn Nest Cam on or off from the SkyBell app. And if Nest Cam senses motion when you're away, it will tell your SkyBell video doorbell to start recording.
Philips Hue: If Nest Cam senses motion when you're away, your Philips Hue lights can turn on to make it look as if you're home.
August: See who's at your door from wherever you are. When someone unlocks your door, Nest Cam will show a short animation you can watch from your August app.
Mimo Baby Monitor: Mimo sends you insights into how your little one is sleeping. And when your baby stirs, Mimo works with Nest Cam to show you what's happening in the nursery.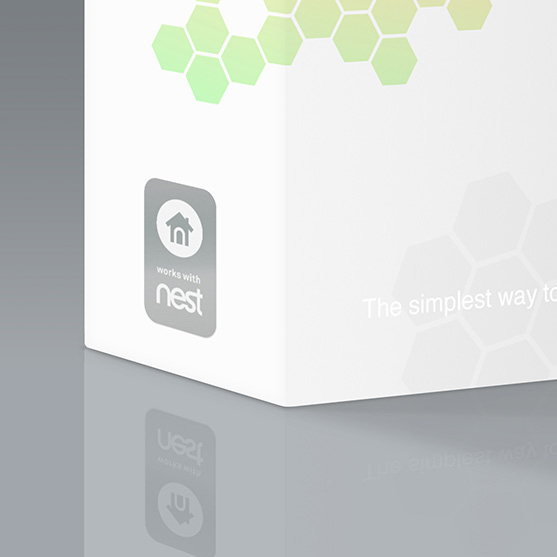 Works with Nest: The most comprehensive connected home platform.
Until now, developers have been using our cloud API to connect to Nest. It's a great way for companies to start building connections quickly – in a matter of hours – with very little development overhead. But it also means their products need an Internet connection to work with Nest.
The problem is not all home products can or should run Wi-Fi. Wi-Fi makes sense for products with plenty of power and memory, like a refrigerator or dishwasher. But not for devices that are small and low-powered, like a smart lock.
Five years ago when we started Nest, we realized this was a problem. None of the communication protocols out there worked for us, so we ended up inventing our own. It's called Nest Weave. We've been using it in Nest products for years, and next year we'll be opening it up to everyone who wants to make a connected home product.
Nest Weave lets devices talk directly to each other and to Nest. And because it's reliable, compact and secure, it works great for all kinds of products – like a lightbulb that needs to turn on and off without any lag time, or a door lock that runs on battery power, or a security system that needs to work even if Wi-Fi goes down.
Works with Nest goes way beyond our cloud API and Nest Weave. Over the years, we've built a connected home platform that works not just for our camera, thermostat, and smoke and CO alarm, but for all kinds of products. Whether you want to make an app, hardware product or both, you can pick and choose whatever you need: an operating system, communication protocol, cloud services, user accounts, security and more.
There's a lot that goes into building a connected product, and we're here to help. Just ask Yale.
They've been making locks since 1843. But they knew they wanted to make a new kind of connected lock. That's why they came to Nest. Using Nest Weave, our cloud services and app, they built the first lock that lets you check if the door is open, see who came and went, and create passcodes for family members and guests from the Nest app. It's called Linus. Take a peek:
We're adding new products that work with Nest all the time. In fact, you probably already have a few. Just look for the Works with Nest logo. We're also creating a new Works with Nest Store to make it easier to find and discover new products for your home. It's coming soon, so stay tuned. In the meantime, you can always sign up to hear about new connections and ways your home can help take care of you.