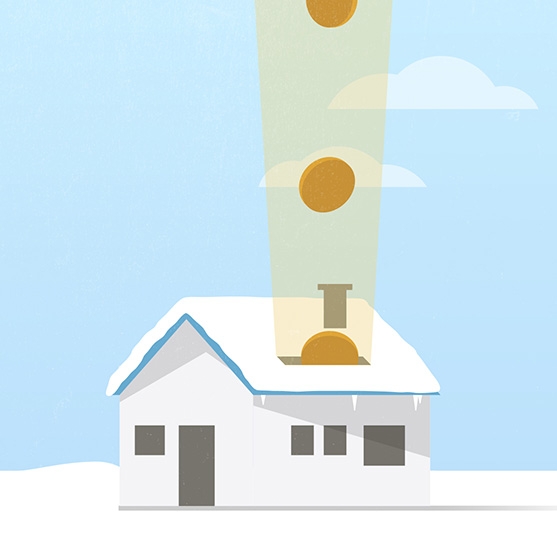 There's a reason power gets tight at the worst possible times – in the middle of the coldest cold snap in 20 years, or at the height of a scorching summer afternoon. Extreme weather causes extremely high energy use. Thousands of people turn on the AC or the heat at once, which forces energy companies to bring on more and more (and often dirtier) power plants to deal with the spike.
But if everyone used just a little bit less power during those couple hours of peak energy use, we wouldn't need more power plants. We wouldn't have any outages.
That's why a couple years ago we launched Rush Hour Rewards. It works in the summertime – Nest Thermostats running Rush Hour Rewards see a peak coming and turn the air conditioning on an hour or two early so they don't need to use as much energy later. Nine energy companies in New York, California, Texas, Illinois and Ontario signed up, offering incentives for their customers, and summer Rush Hour Rewards became hugely popular. According to our estimates, in 2015, customers reduced air conditioning use by over 55% across all Rush Hour Rewards programs, with some programs averaging more than 70%.
So today we're introducing Rush Hour Rewards for winter. Our first partner is Portland General Electric. They're bringing Rush Hour Rewards to customers in Oregon year round - summer and winter.
Rush Hour Rewards for cold weather works on the same principle as the summertime program. When an energy provider knows a particularly cold day is coming, all the Nest Thermostats running Rush Hour Rewards start warming up early so those homes are already cozy when everyone else in the neighborhood is cranking up the heat. You use less energy, you stay perfectly comfortable, and energy companies don't have to run extra power plants.
And now energy companies can move a lot faster. We've improved Rush Hour Rewards so energy providers can alert Nest Thermostats just two hours before a peak, unlike in the past when they had to anticipate demand the night before. Those two hours still give your thermostat plenty of time to warm up or cool down the house and they give energy companies a lot more flexibility to manage peak demand.
For years energy providers have tried to make these kinds of demand-response programs work, only to have them fall apart because people didn't feel comfortable or in control, or what worked for one city didn't work for another. Since 2013, Rush Hour Rewards has proven Nest can make it work. People can save and stay cozy. And now they can do it all year round.