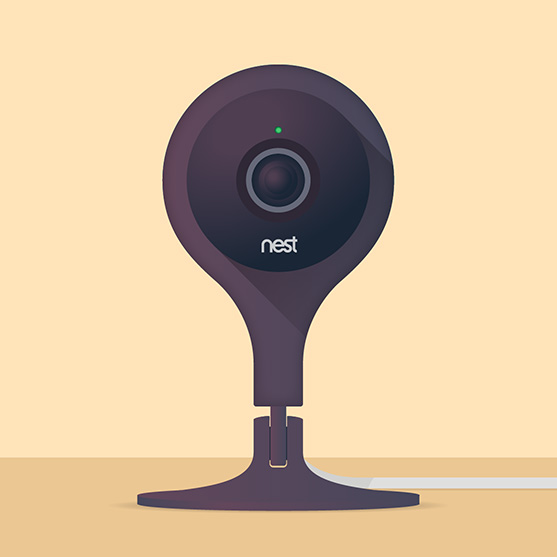 Will it run out of power? Can you see things clearly at night? Should it just record clips when there's motion? Or should it be recording all the time?
Anyone can make a camera and call it a security camera. But that doesn't mean it works like it should. With Nest Cam, we thought about the kind of security camera we'd want in our homes. And we realized that a great security camera really comes down to two things: 24/7 live streaming and 24/7 continuous recording.
24/7 live streaming
You can design a camera two ways. It can plug in or run on batteries. Batteries give you the flexibility to put your camera in more places. The downside? Dead batteries. Nest Cam plugs into power so you can check your live stream as much as you want. And it won't suddenly run out of batteries while you're on vacation or right before the cat does something YouTube-worthy.
And power isn't the only thing that limits what you see. Many cameras are grainy, choppy and use a ton of Wi-Fi bandwidth. So even if they claim to have HD, you might not get a great view of what's happening.
Nest Cam streams in full 1080p HD, has an all-glass lens with a wide 130º view, and uses bandwidth compression algorithms to make sure your video looks crisp and streams smoothly.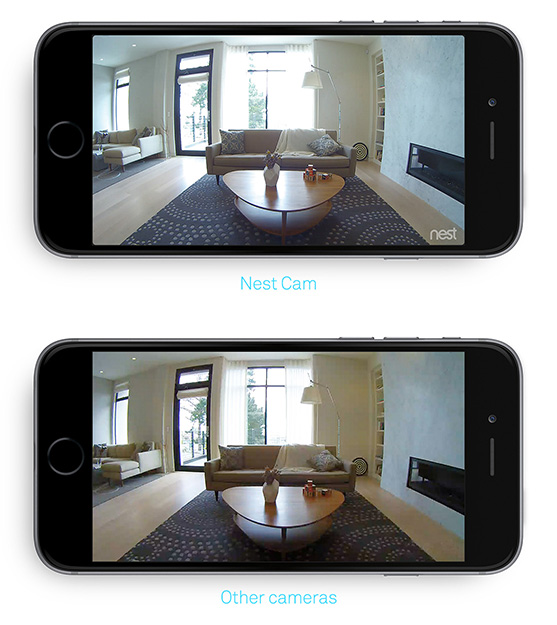 It also uses eight infrared LEDs to give you a clear view of the whole room at night. And because our LEDs know the difference between a flashlight and sunlight, Night Vision won't turn off every time a bright light passes in front of the camera.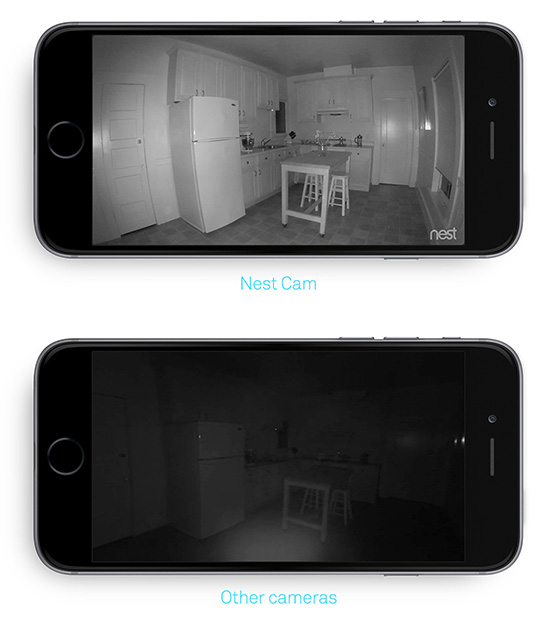 24/7 continuous recording
Live streaming lets you check in any time. But what happens if you miss something? Some cameras create clips when there's motion, while others continuously record video. The trouble with clips is that you depend on the camera to judge when motion starts and ends.
So when you subscribe to Nest Aware with Video History, you get 24/7 continuous recording. Not partial clip recording. Not motion-activated, I-hope-my-camera-recorded-in-time-and-didn't-cut-off-too-soon recording. But full 24/7 continuous recording, with a summary of everything that happened. That means you don't end up with a clip that starts just as a burglar is running out the door.
This is the kind of clip you get with motion-activated recording. Don't blink or you'll miss it:
With 24/7 continuous recording on Nest Cam, you can see when there was motion, and watch footage from before, during and after the event:
And because we don't think one to two days of Video History always gives people enough time to go back and see what happened, Nest Aware lets you choose between 10 and 30 days of continuous recording. That's up to 340 GB of rolling cloud storage a month. Nest Cam also stores your Video History in the cloud instead of in a memory card inside your camera, so you can watch your Video History even if your camera is stolen.
More than Video History
A Nest Aware subscription gives you much more than continuous recording. It also uses algorithms in the cloud to to give you personalized alerts, clips and timelapses.
Here's how it works.
Nest Cam uses internal sensors to detect motion. With Nest Aware, extra processors in the cloud run algorithms that help Nest Cam tell the difference between a tree swaying outside your living room window or someone breaking into it. That way, when you get an alert, you know it's probably something worth checking out.
Nest Aware also lets you set up personalized Activity Zones. You can highlight specific areas you want to keep a closer eye on – like a door or bike rack – and Nest Cam will let you know if something happens there. So you only get alerts you really care about.
On top of Video History, powerful cloud algorithms and personalized alerts, you can also create clips and timelapses. Other cameras will record clips for you, but with Nest Cam you can edit your own clips – so you don't end up with an awkward machine-generated video that cuts off part of the action. You can also turn hours of footage into a short timelapse film without having to use any extra software.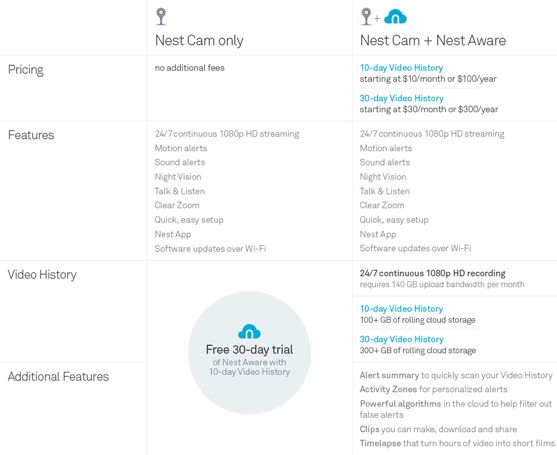 Security cameras are complicated to build. And even harder to do right. Nest Cam has been out in the world for just five months and it's already spotting thieves, solving crimes, and giving homeowners a way to keep an eye on what's important to them, even when they're not there. Because this is what a security camera should be.