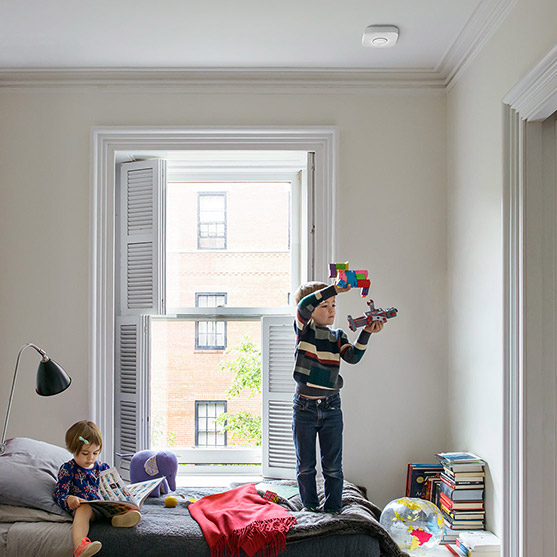 There's one reason we made Nest Protect: smoke and carbon monoxide alarms are important. They save lives. They matter. And yet, most smoke detectors are treated as a nuisance. And CO alarms are often an afterthought.
We wanted to create a smoke and CO alarm that was better.
And when customers tell us their stories, we know we're on the right track.
We hear stories all the time - in reviews and on social media and in emails. They inspire us. To keep working. To keep making Nest Protect better. And today I want to share a few of those stories with you.
Stephen Boyson
A bad story with a good ending.
"Last night at 8:30 I pulled into my house and my iPhone went off and my wife came flying out the door. My wife explained my CO system had just gone off and my phone said evacuate your home and call 911, which I did.
"The firemen arrived and went into my home and said the CO level in the basement was high. My boiler had blown and blew the back out, causing a rapid leak of CO. Which is why my Nest Protect CO system went off.
"My other system which plugged into the wall failed. It was 2 years old.
"Thank god for my Nest system. It worked while the other failed. TY to the Dennis FD and the plumbing inspector Mark Dibenedetto for coming fast. Mark, you and the FD are tops. Tonight I might have no heat yet but I'm alive. My point is: check your CO detectors, buy Nest. You will pay 99 dollars for one. But how much is life worth. Be safe."
Cynthia Cascione*
A heads-up when it counts.
"Wanted to let you know that I recently installed a Nest Protect in my apartment and last night at 3am an apartment in my building had a huge fire that gutted that apartment and inundated the building with smoke.
"My wife and I were awakened by our Nest Protect giving us a heads up that it detected smoke (no alarm) and I was able to go check out the situation to see if I needed to wake up my toddler and get her and my pregnant wife out of the apartment before we were in any real danger!!!
"The fire was on another floor and across the building but the Protect was able to pick up the smoke and alert us before an alarm was needed. None of the other units on my side of the building had any idea anything was going on. My neighbors woke up to the smell of smoke and the firefighters but none of them were alerted to the potential danger by their smoke alarms.
"I am very grateful for how amazingly sensitive the Protect was and how we were alerted to the situation before an alarm was needed (which prevented my toddler from waking up). I will be buying Protects for the rest of my family.
"Best money I have ever spent!
"Thank you for all your hard work making such an important product."
Susan Johnson
Save the cat, save the day.
"Two years ago, we moved into a new house. We grabbed our old Dropcams and replaced the existing thermostat and smoke detectors with Nest products. Last month, we left the house to take a short 2 day vacation. We made a quick breakfast, turned on the air conditioning and left our 9 year old cat at home.
"The next morning I awoke to a notification on my phone that there was carbon monoxide in the house. I quickly went to the Dropcam live view and could hear the Nest Protect CO alarm going off. I called a friend of mine to go to my house to investigate. My friend opened the windows and couldn't see anything out of place, and then I remembered I had made breakfast the previous morning and asked him to check our gas stove. Sure enough, the burner was on so low you could barely see it.
"He found my cat alive and well and within minutes I had a notification from Nest Protect that the CO had cleared.
"I had to put down my 15 year old cat two months prior and I have no doubt that if I hadn't had Nest products and was able to be notified, I would have come home to another deceased family pet. Thank you, thank you!"
Want to see more Nest Protect stories? Meet the Molicas. And Cody, the accidental arsonist.
Stories have been edited for length, clarity and accuracy.
* Cynthia Cascione is a current employee of Google, Inc., an affiliate of Nest Labs, Inc. Her testimonial was not solicited by Nest.