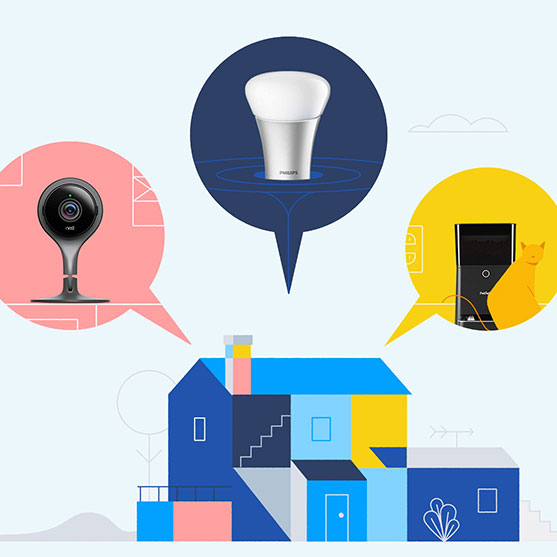 For most people, the connected home isn't quite real yet. You can buy a mishmash of smart devices, but getting them to work together isn't always easy. And most homeowners don't even know where to start.
Say you get a Nest Learning Thermostat. Then what? Can it connect to your lights? Or to anything else? How do you turn your house into a connected home?
To answer that question, we created the Works with Nest Store.
As you enter the Works with Nest Store, you can do two things: filter by the Nest products you own, or look through categories like security and health.
So if you have a Nest Cam, you can immediately see what products it can connect to. Or if you're thinking of getting a connected light bulb, you can see all the lights that work with Nest.
And the Works with Nest Store is constantly growing. Here are a few recent additions:
#Keen Home Smart Vents Keen Home Smart Vents can work with your Nest Learning Thermostat to heat or cool only the rooms you use. Put Smart Vents in rooms that get too hot or cold, or aren't used very often, and Nest and Keen Home can work together to balance the temperature, room by room.
#Petnet SmartFeeder The SmartFeeder helps you manage your cat or dog's feeding times and portion sizes. Connect Nest Cam to your Petnet app to see a snapshot every time your pet eats, so you can make sure they're getting their dinner.
#Logitech Harmony Logitech Harmony Elite remotes can connect to your Nest Learning Thermostat so you can turn up the heat with your remote. Or they can connect to the Nest Protect smoke and carbon monoxide alarm and mute the music when there's an emergency.
#Whirlpool Smart Washers and Dryers When the Nest Thermostat senses you're away, your dryer can switch to Eco Mode to save energy and turn on Wrinkle Shield™ to keep clothes wrinkle-free until you return.
#Chamberlain MyQ garage opener Chamberlain can work with Nest Cam to send you a notification every time your garage door opens or closes and show you who comes in or leaves.
#ChargePoint Have an electric vehicle? If you have a ChargePoint Home electric vehicle charger it'll show up in your Nest Home Report so you can keep track of how much energy you're using every month.