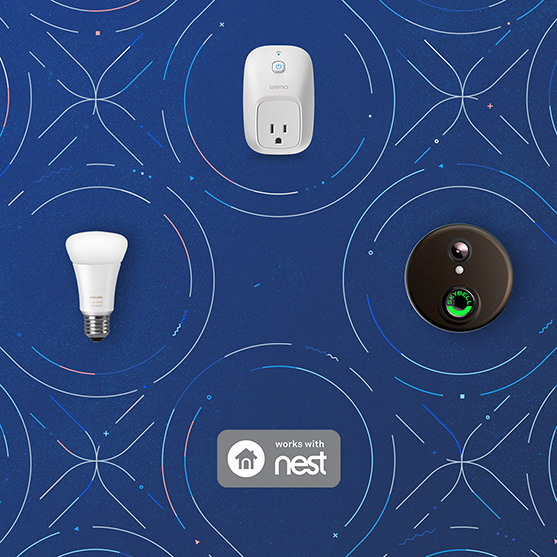 Nest.com has always been a place where you could learn about Nest and buy the products we make. It's focused on us – our products, our story, our store. But we've long known that we can't build the connected home all by ourselves. That's why we launched Works with Nest.
And that's why you can now buy select Works with Nest products directly from the Nest Store.
We know this is a crowded market – more and more smart products come out every day, and it's hard to know which to buy. And which will work with what you already have. So for the Nest Store, we carefully picked out the products that we love and use in our own homes.
We also picked out products that connect brilliantly to Nest. The best Works with Nest connections use everything that Nest can do to make their own products better. That's what we love about Works with Nest. And that's what we're selling:
LIFX Color 1000 - 2 Pack Starter Kit
LIFX WiFi smart bulbs allow you to create and tailor your lighting from anywhere. When Nest Cam senses motion in one of your Nest Cam's Activity Zones, your LIFX lights can light up to deter intruders. And when Nest Protect senses smoke or CO, your LIFX lights can blink, then switch to full brightness for emergency illumination.
Buy it >
Philips Hue Starter Kit A19
Use your smartphone or tablet to control your lights while at home or away. Philips Hue can turn off automatically when Nest is in Away mode, flash red when Nest Protect senses smoke and turn on when Nest Cam detects motion.
Buy it >
Rachio Smart Sprinkler Controller
The Rachio Smart Sprinkler Controller and app makes running your sprinklers easy and saves you water. When you connect to Nest, you'll see how much water you saved in your Nest Home Report. And, if your Nest Protect detects smoke, Rachio can cycle your sprinklers for protection.
Buy it >
SkyBell HD WiFi Video Doorbell
See live video of your front door with the SkyBell HD WiFi Video Doorbell. SkyBell HD can automatically record video at your front door when Nest Cam detects motion or sound while you're away. When Nest Protect detects smoke or CO, SkyBell HD can blink red so you know it might not be safe to go inside.
Buy it >
Wemo Switch
The Wemo Switch brings control of your lighting and other small appliances right to your phone. Nest can tell Wemo when you're home or away, so your fan can turn off to save energy when the house is empty. Or your lights can automatically turn on when you walk in the door.
Buy it >
Want to see more Works with Nest products? There are over 100 here. We're not selling them all from our store yet, but you can pick them up from your local retailer. We'll be adding more Works with Nest products to the Nest Store – and hopefully your home – soon.