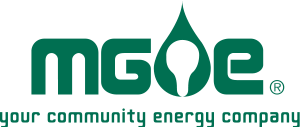 Help reduce energy use during peak times.
A Nest thermostat learns what temperatures you like so it can keep you comfortable and help you save energy. Now it can do even more.
Sign up for the Rush Hour Rewards program and receive a $50 Visa gift card from Madison Gas and Electric (MGE). Continue participating next summer and receive another $25 Visa gift card. Rush Hour Rewards will help you use less energy on hot summer afternoons, while keeping you comfortable and in control.
The enrollment period has ended. Enter your email to stay up to date with energy programs from Nest.
Meet the 3rd generation Nest Learning Thermostat
Auto-Schedule
No more confusing programming. Nest learns the temperatures you like and builds a personalized schedule for your home.
Home/Away Assist
Don't waste energy heating or cooling an empty home. Nest automatically saves energy when you're away.
Energy History
The more you know, the more you can save. See how much energy you've used in the last 10 days.
Remote control
Change the temperature from anywhere with your phone, tablet or laptop.
Maximize your savings. Minimize your energy bill.
Rush Hour Rewards
MGE will pay you to use less energy when everyone else is using more. And your Nest thermostat can do it automatically.
Here's how it works:
MGE wants to lower demand during energy rush hours, like those hot summer afternoons when everyone's cranking up the air conditioning.
A Nest thermostat can help you use less energy by cooling your home down ahead of time and tweaking the temperature up to three degrees during the rush hour.
You're in control. If you're home, Nest won't let it get too hot. But if you start to feel warm, you can change the temperature at any time.
Learn more about Rush Hour Rewards >
Here are all the details.
Rush Hour Rewards
MGE will give you a $50 Visa gift card once you enroll in the Rush Hour Rewards program. Plus you'll receive a $25 Visa gift card for continuing to participate next summer.
There will be up to 15 energy rush hour events each summer. This number could be exceeded if there is a power emergency. Each rush hour will last no longer than four hours. Rush hours happen between 12 p.m. and 9 p.m.