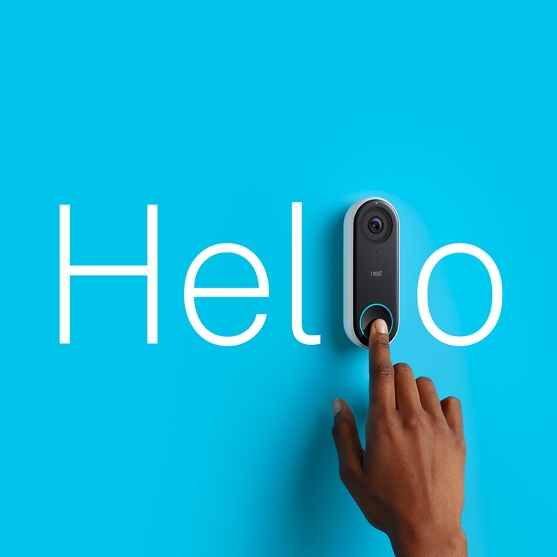 Your front door is a special place. It's the thing that separates your home from the outside world. It's where you watch your children come home from school. Where you greet friends. Where parcels pile up before Christmas. And it's the first place burglars go to try to get into your home.
You want to do everything you can to protect this space. And keep unwelcome visitors out. So today, we're re-imagining another unloved thing around the house – the doorbell.
Meet the Nest Hello video doorbell, available in the first quarter of 2018. It combines the convenience of a video doorbell with the image quality and intelligence of a Nest Cam.
Nest Hello is designed for what happens at the front door. You need to be able to see people head to toe at close range, as well as parcels on the ground. So Nest Hello's HD camera has a 160° field of view and a 4:3 aspect ratio.
You also want to know who's there, even when you're not at home or it's dark outside. That's why Nest Hello has 24/7 live streaming, HDR imaging and Night Vision to give you a clear view.
If there's one thing that's consistent about burglars, it's that they don't announce themselves. Not a problem with Nest Hello. It can light up and send you an alert when someone approaches, even if they don't ring the bell. And if you subscribe to Nest Aware, Nest Hello can tell you exactly who's there with familiar face alerts.
Nest Hello also has HD Talk and listen. So you can answer the door, whether you're at home or not. And you can use pre-recorded quick responses to play a voice message for visitors with a tap of your finger. It's perfect for when you're in a meeting but don't want to miss an important delivery at home. Simply tap the quick response that says, 'You can leave it. Thanks!'
To find out more about Nest Hello over the coming months, please visit the Nest Hello page.
This device has not been authorised as required by the rules of the Federal Communications Commission. This device is not, and may not be, offered for sale or lease, or sold or leased, until authorisation is obtained.