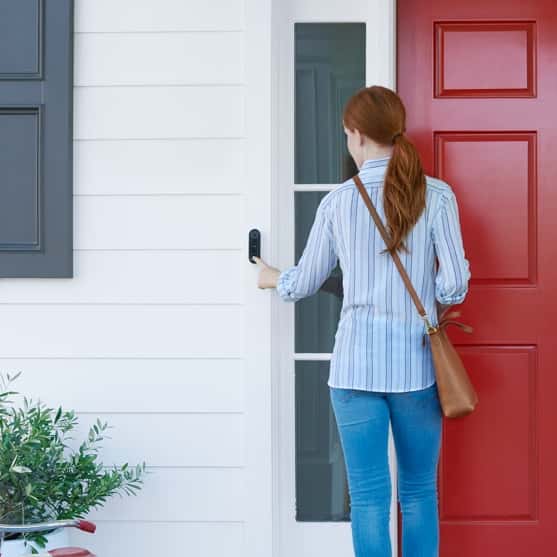 The front door is where your house begins. It's the entryway to special moments with family and friends. Where parcels pile up before Christmas. And it's the first place that burglars go to try to get into your home. So we've designed a doorbell that helps make your front door safe and secure, yet still keeps it friendly and welcoming.
Meet the Nest Hello video doorbell. It combines the convenience of a video doorbell with the image quality and intelligence of a Nest Cam. Designed for your front door, it delivers HD video and bright, crisp images, even at night. It's designed to show you everything on your doorstep – people from head to toe or parcels on the ground. And with 24/7 streaming, you can check in at any time. Or go back and look at a 3-hour snapshot history to see what's happened.
Know who's knocking.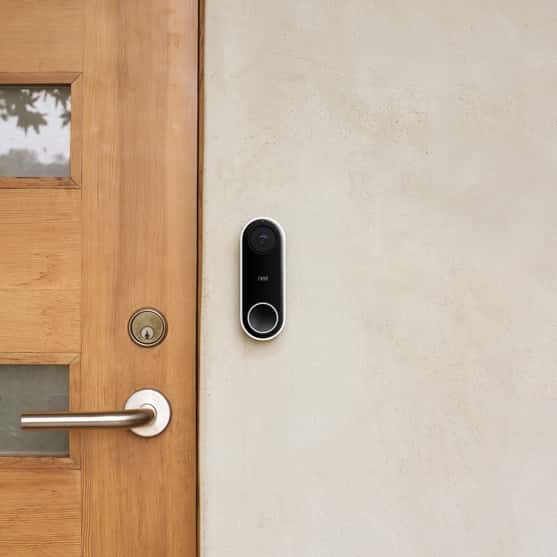 A doorbell is the first thing that visitors look for, so we've made Nest Hello easy to spot. Its light ring can pulse when someone approaches, letting your visitor know where to ring the bell. And when they do, Nest Hello keeps things friendly.
You can see who's there from the Nest app and have a natural conversation. Echo and ambient-noise cancellation make sure that you hear your guests clearly, even on noisy roads. And if you can't answer the door, with one tap from the app, you can choose a quick, pre-recorded response, like, 'Just a moment, we'll be right with you'. If the baby is sleeping or you don't want to set off the dog, quiet time lets you turn off your chime directly from the Nest app, while still receiving notifications.
The front door is also a place prone to parcel theft. Nest Hello can detect a person and automatically alert you when someone's there to help keep your parcels safe. If it's someone suspicious, like a doorstep thief, just say something to scare them away. Or use one of the pre-recorded messages.
Learn more about Nest Hello.
Some features, including mobile notifications, remote control, video streaming and video recording, require a working Wi-Fi connection.
Nest Hello installation requires a wired doorbell, a chime and a compatible transformer – check the compatibility of your home using the online widget. Nest recommends asking a Nest Pro to install it.