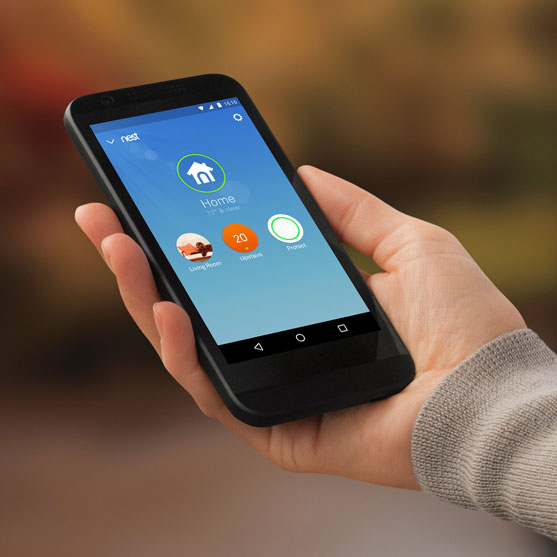 The Nest product that people use the most isn't the thermostat on the wall, the smoke alarm on the ceiling or the camera on the mantelpiece. It's the Nest app. The app is what lets people take our products with them anywhere. It's what connects them to home.
So today, we've made it even better. This is the 5th-generation Nest app and, as always, it's available for iOS, Android and the web. It's simple, beautiful and – for the first time – lets you control your Nest Thermostat, Nest Protect, Nest Cam and Dropcam from one place.
A new look and feel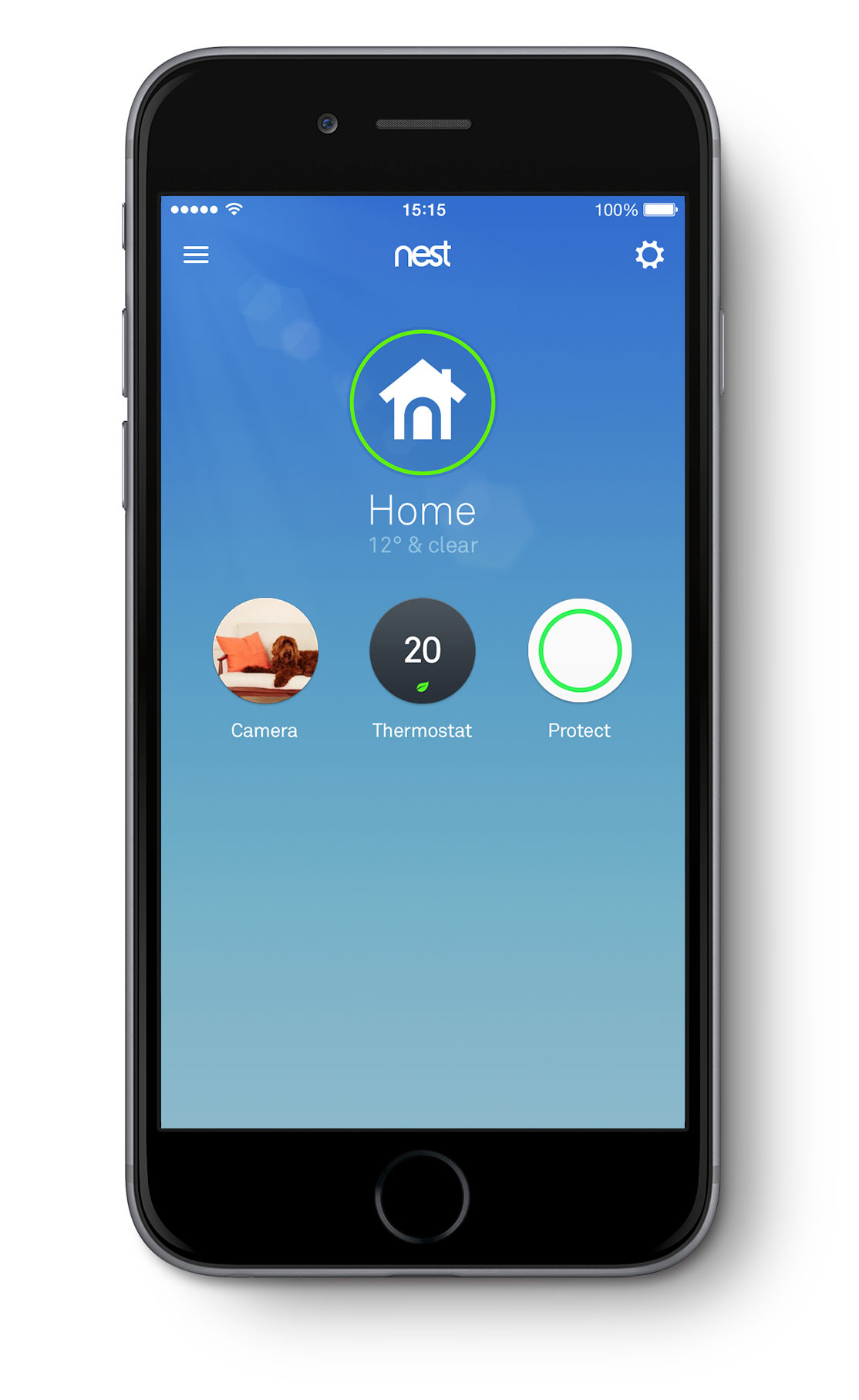 It's not enough for the Nest app to turn your phone into an on-off switch. Anything that Nest makes has to be elegantly designed. We want opening the app to feel as welcoming and familiar as walking through your front door.
So when you open the app today, this is what you'll see:
Your home on the home screen
For the first time, you can see all your Nest products in one place. Each Nest Thermostat, Nest Cam or Dropcam has its own spot, while all your Nest Protects roll up into one icon.
Live camera feeds
See live video previews of all your cameras on the home screen so that you can peek into different rooms.
One tap and you're home
Just tap the Nest house to let Nest know whether you're at home or out. That's helpful for the thermostat and for your Nest Cam or Dropcam. You can set your camera to turn on or off when you've left.
More beautiful weather display
Now sunshine, clouds, rain or snow fill the screen, showing you the weather outside.
Better organised settings
Settings have moved a bit so that they're easier to use. Tap the icon at the top left and you'll be able to switch between different homes and see your account info. Tap the gear icon on the right and you'll get info about your devices.
Making room for Nest Cam and Dropcam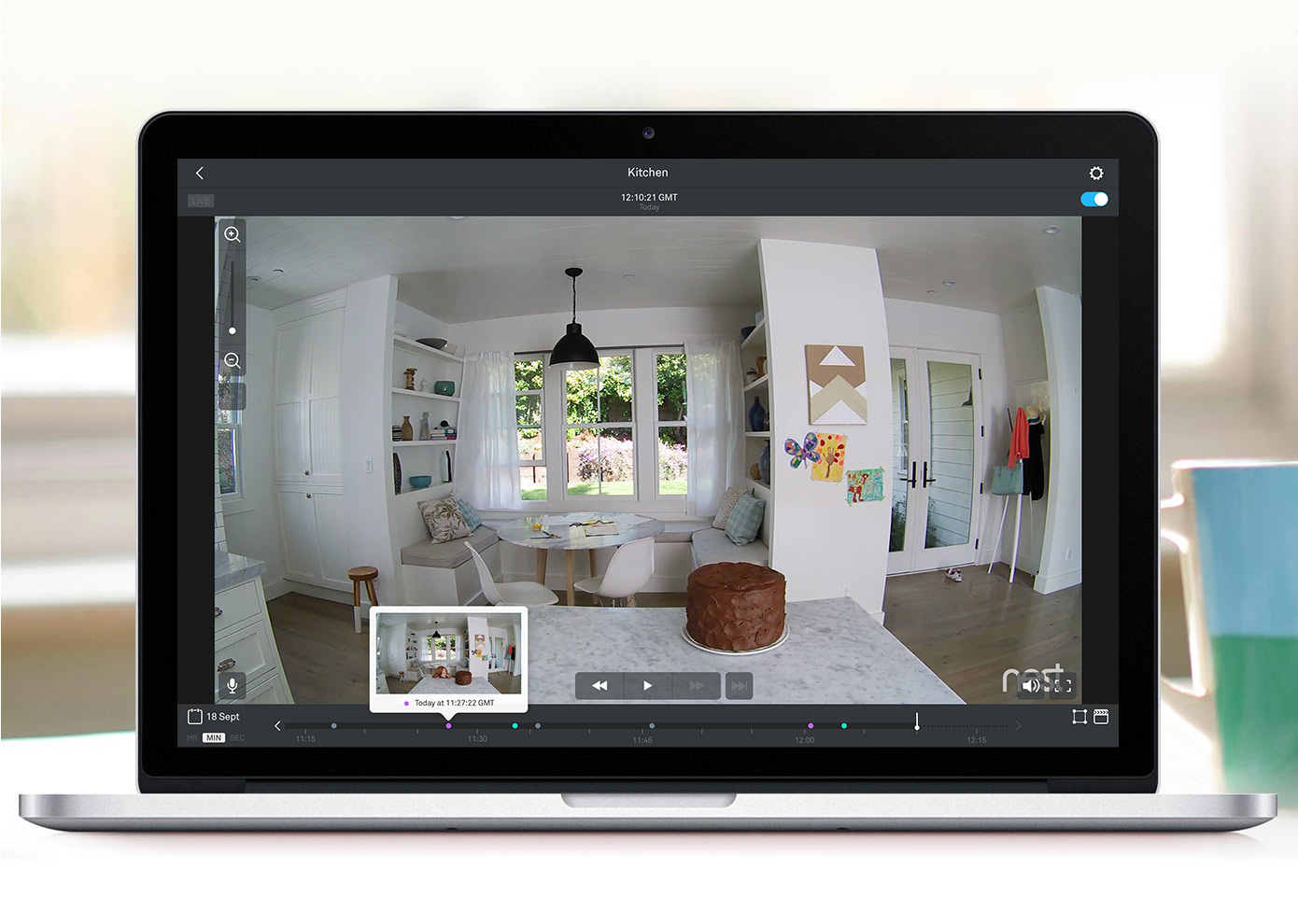 The biggest change to the Nest app is the addition of Nest Cam and Dropcam. Here's what you'll find:
Better Video History
If you subscribe to Nest Aware with Video History – Nest's version of cloud video recording – you can easily find moments when there was motion or sound in your history. You can now skip between those moments or go 30 seconds forwards and backwards in your feed.
Quickly find what you're looking for
If you're looking for a specific moment, you don't have to search through hours of video. Nest Aware filters out false alerts from shadows moving or lights flashing so that you can see the moments that you care about. On your phone, you'll see previews – just a few seconds each – of moments when something happened. On your laptop, you can easily spot highlighted moments that appear on your Video History feed. Learn more about Nest Aware >
Talk and Listen
It's now easier to communicate through your camera. Hold down the icon and start talking, just like a walkie-talkie.
Clear zoom
If you'd like to have a closer look at something, you can use the 8x zoom and enhance the resolution for a sharper view.
Motion and sound alerts
Get alerts when there's motion or sound when you're out.
New for the Nest Thermostat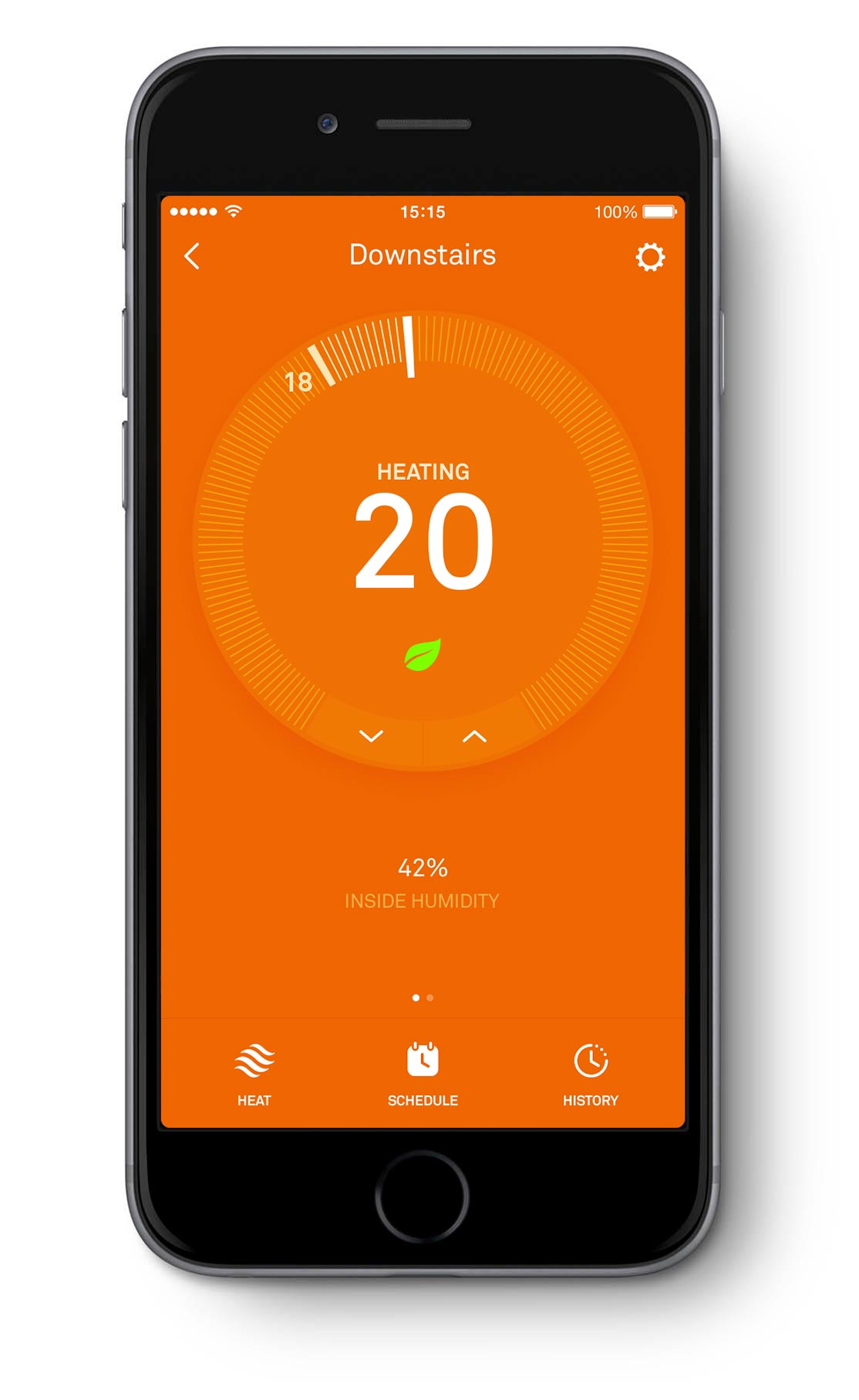 We also wanted you to have a simpler, more beautiful experience controlling your Nest Thermostat.
Reach your favourite features faster
We've moved customers' favourite features to the screen that you see when you tap your thermostat, so you don't have to search from them in Settings. Switch to heating or cooling, control your fan, adjust your schedule, check your Energy History, and see the outdoor temperature and indoor humidity.
More beautiful display
Just change the temperature and watch the whole screen light up.
New Safety Temperature Alerts
If temperatures rise or fall beyond your safety temperatures, Nest can warn you before the pipes freeze or pets overheat.
Control more thermostats
You can now control 20 thermostats from one Nest account.
New for Nest Protect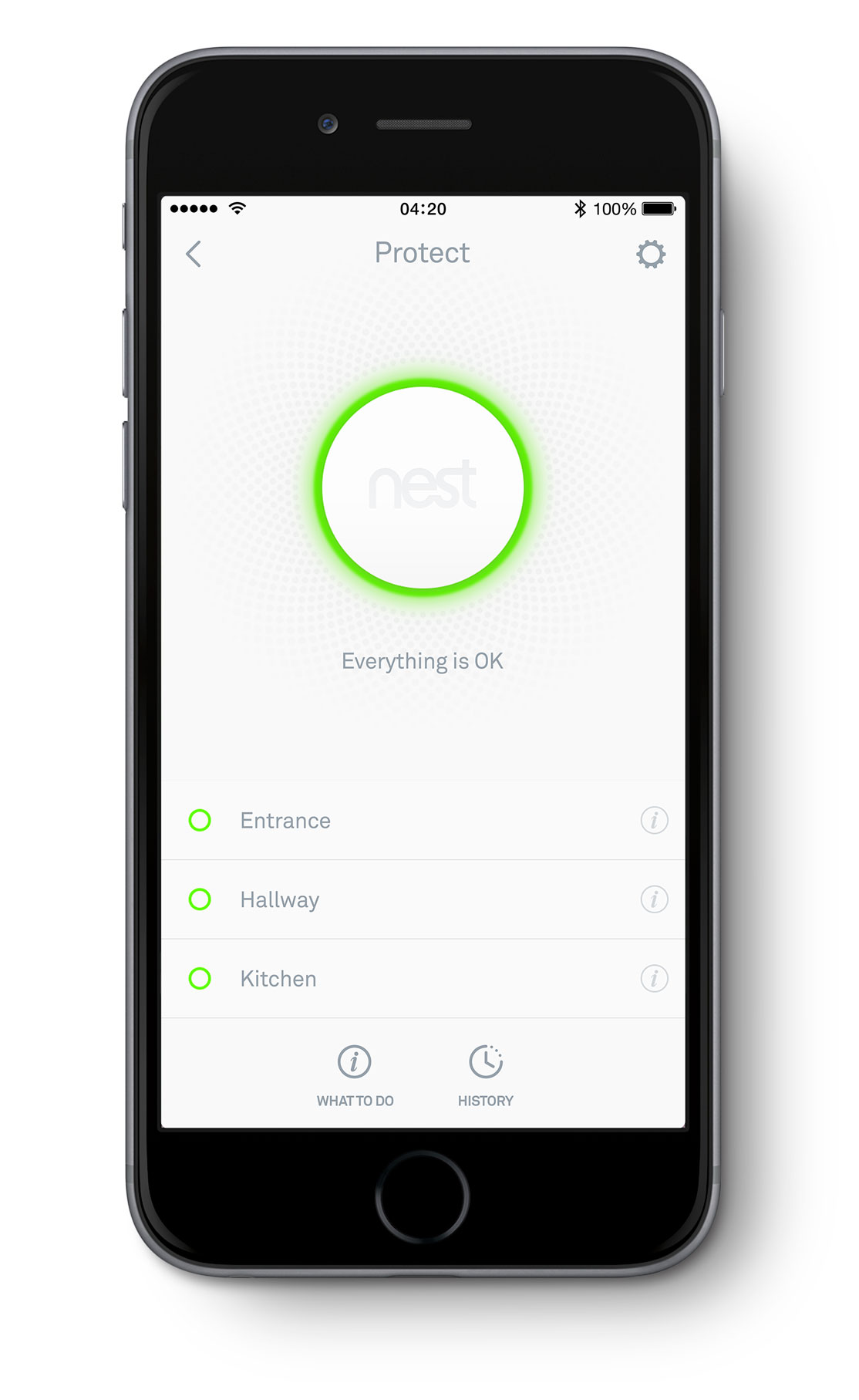 You've bought a beautiful smoke alarm. You deserve a beautiful app. So we've cleaned up the design of the Nest Protect screens to better reflect the actual product.
App Silence
With the 2nd-gen Nest Protect, you can silence an alarm directly from your phone.
Safety Checkup
The 2nd-gen Nest Protect lets you test all your alarms with one tap. On 1st-gen alarms, this button will tell you how to test your Nest Protects manually.
See what's wrong
If you have a Nest Cam and Nest Protect in the same room, you'll see a camera button when you get a smoke or CO alert on your phone. Tap the button and you'll immediately be taken to a live view of your home so that you can see what's going on. Nest Cam will also record a clip of what happened, even if you don't subscribe to Nest Aware with Video History.
We've made a few major changes and lots of tiny ones. Brighter colours, balanced icons, clearer instructions, security updates, bugs fixed – a thousand tweaks that we've worried about over a thousand hours. The big ones are important, but the little ones – the ones that make your experience with Nest just a tiny bit better – are the ones we're most proud of. We hope you like it.