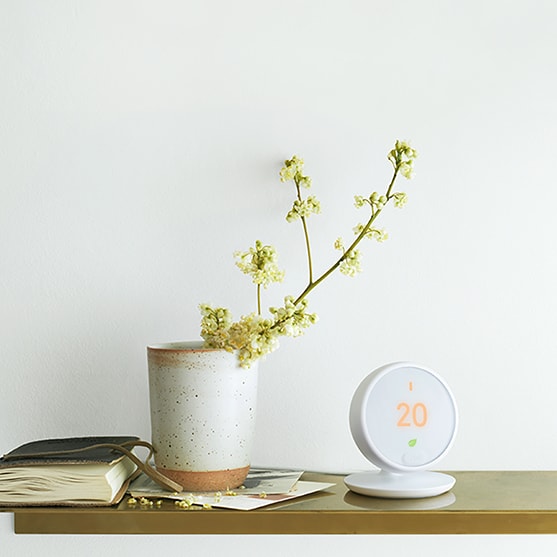 When we started Nest, we wanted to help the world save energy with the Nest Learning Thermostat. Since then, Nest customers have saved more than 25 billion kilowatt-hours of energy – that's the equivalent of more than £1.2 billion in energy saved.
But what if we could make these energy savings available to more homes and more people?
So we set out to create a simpler, more affordable thermostat. One with the same energy-saving features people have come to expect from a Nest thermostat. But with a friendlier, streamlined design that offers simple installation and control.
Meet the easy-to-use, energy-saving, control-it-from-everywhere, easy-to-install Nest Thermostat E. It's for everyone.
Easy to use
The Nest Thermostat E lets you start with a simple preset schedule – up in the morning, and down at night, And you can adjust the temperature from anywhere with the Nest app, or just tell your Google Assistant enabled device what to do.
Easy on the eyes
Instead of a bold design piece, the Nest Thermostat E and its frosted display quietly blend into the background of your home. This new display diffuses the light from the screen, so you see softly glowing text and graphics – along with a simplified interface – that is easy to read. When it's off, the frosted display takes on a glacier-gray color and fades into the background. And the Nest Thermostat E has a built-in stand, so you can place it anywhere in your home.
The Nest Thermostat E is perfectly complemented by the thoughtful design of the Heat Link E. Its fabric cover makes it feel more like furniture than just a beige plastic box on a wall. And it's oleophobic, with anti-static and UV resistance so it withstands dirt, dust, oil and resists discoloration.
Easy to install
With its intuitive design that uses existing thermostat wiring, most people can install the Nest Thermostat E in less than an hour. The new Heat Link E controls your heating system and replaces your old thermostat, whilst the Nest Thermostat E comes with a stand and plug, so you can place it wherever you care about control and can get better use of its sensors.
Easy to save energy
The Nest Thermostat E puts proven energy-saving features front and centre, so you can begin saving energy right on day one. Like the Nest Learning Thermostat, it automatically adapts its schedule as your life changes and even turns itself down when you're away, so you don't waste energy heating an empty home.
And with the Nest app, you can see how much energy you use every day in Energy History and every month in your Home Report. So you can see when you use more energy, like on weekends or Monday nights, and how you could use less.
The Nest Thermostat E looks very different from any thermostat we've made before. But what hasn't changed are the core features that define a Nest thermostat – simplicity, energy savings and remote control. Now there's a Nest thermostat that can fit into any home.
Some features, including mobile notifications and remote control, require working Internet and Wi-Fi.
Energy savings are not guaranteed and depend on energy usage, weather and other factors. Learn more at nest.com/eu/savings.