Overview
Specs
Where to buy

>
Nest Cam Outdoor
Security, rain or shine.
On your phone 24/7.
Imagine that you're out.
A stranger hops over your fence.
You receive a phone alert. Your Nest Cam Outdoor believes that someone's there. You check your feed and see someone sneaking around. You speak into the app and they run off.
---
Nest Cam Outdoor helps you look after your home 24/7. So you can find out about a break-in before it happens.
Nest Cam helps solve crimes. And here's the proof.
For the last two years, Nest Cam Indoor has been spotting criminals as they enter homes. Now Nest Cam Outdoor can stand guard outside. Want to look inside your home? Get Nest Cam Indoor >
"I saw the intruders with the Nest app and used the Talk & listen feature to scare them away. Authorities were able to find and arrest the suspects thanks to the clip."
– Lisa P., New Jersey (April 2016)
"Thanks to the Nest Cam clip, the police were able to positively identify the criminals. All four burglars have been caught and identified."
– A.G., Massachusetts (February 2016)
"I was asleep at home when I heard a crash. With this clip, the police were able to positively identify the intruders, who are now in prison for other crimes."
– Guelda M., Washington (November 2015)
"Two men broke into my house and Nest Cam notified me of the activity. I took a screenshot of their faces and made a flyer to warn the neighbours. One of the burglars saw it and turned himself in."
– Niki, Texas (April 2016)
Standing watch 24/7.
Rain or shine.
You don't want a security camera that sleeps on the job, takes a rain check during a storm or makes your house look unwelcoming. Nest Cam Outdoor is beautiful, weatherproof and plugs into the mains power supply, so you never have to worry about dead batteries.
Records everything. Just in case.
Some cameras that rely on batteries can turn on only when they sense motion. But if they miss something, you will too. With a Nest Aware subscription (sold separately), Nest Cam continuously records up to 30 days of video securely in the cloud. So you'll never miss a thing.
Learn more >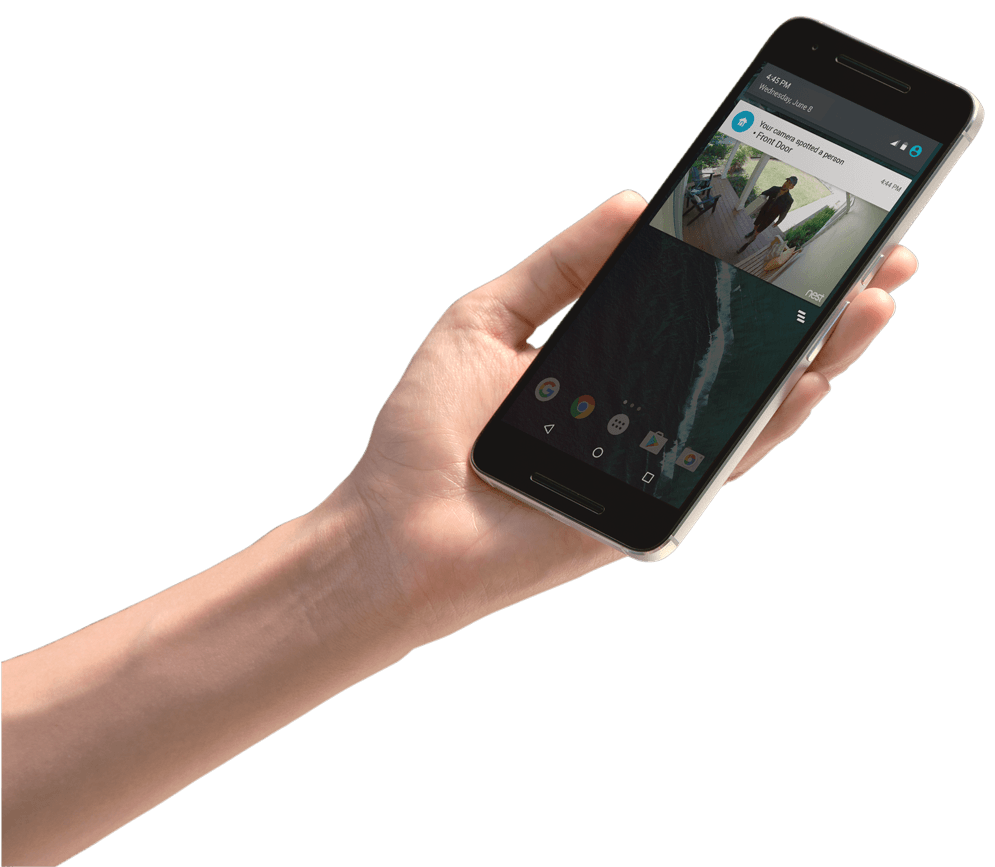 Alerts you when something happens.
You can't always be watching your video feed. Nest Cam looks for motion and listens for loud sounds, like a boom or the crash of a window breaking. It can then alert you with a photo from the event, and can even save some of the pictures in the Nest app for three hours.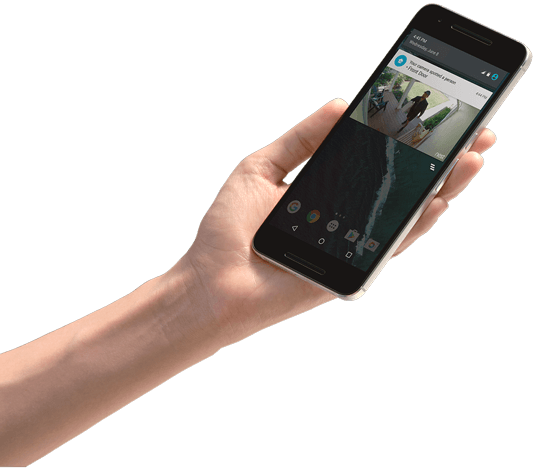 It can tell a person from something else.
Get alerts that matter. When you subscribe to Nest Aware, advanced cloud algorithms pick out activity that you care about.
Person alerts.
Get a special alert when Nest Cam Outdoor sees a person – if someone is walking up the front steps or if someone's head appears in frame, for instance.
Activity Zones.
Get alerts when something happens in important areas, such as around doorways and bike racks.
Talk & listen.
Nest Cam Outdoor has a built-in speaker and mic, so you can scare off a suspicious visitor when you're out or ask the postman to leave your parcel at the door.
"Hello. Just leave the parcel
by the door, please."
See what you've missed.
If you miss an alert, you can always see activity from the last three hours in the Nest app. So you'll find out if someone was lurking on your doorstep and see a photo of them.
Quickly find what you're looking for.
Three days ago, someone stole your parcel. With Sightline, you don't have to dig through video to spot the thief.
See a day in seconds.
And find the moment that you're looking for – fast.
The information that you need.
Find out where activity happened, when it started and when it ended.
Snapshots of critical moments.
Sightline doesn't just show you a random thumbnail of an event. It automatically zooms in on the action. So you can see straight away if it's worth watching.
See the world in high definition.
A camera is only as good as the clarity of its image. Some cameras say that they have HD, but their sensors and plastic lenses can give you a lower image quality. Nest Cam has an all-glass lens, so you'll get true 1080p HD image quality, day and night.
Shows you the whole scene.

A 130° wide-angle view to show you as much as possible.

Streams every detail.

With 1080p HD and 8x zoom, you can see every detail.

Clear as day. Even at night.

Night Vision evenly illuminates the view.
Share what's happening.
Give family members access to your Nest account so that everyone can help keep an eye on your home. Or make a public or password-protected live stream to share with friends and neighbours.
Create and share clips.
Nest Cam records everything so you can save the exact moments that you want. Create clips to download and share. Or turn hours of footage into a mini timelapse film.
Everything works together to keep you safe.
Nest Cam Indoor and Nest Cam Outdoor work with other Nest products to help keep your home safe and secure. You can even connect Nest to light bulbs and window blinds to make it look as if you're at home when you're not.