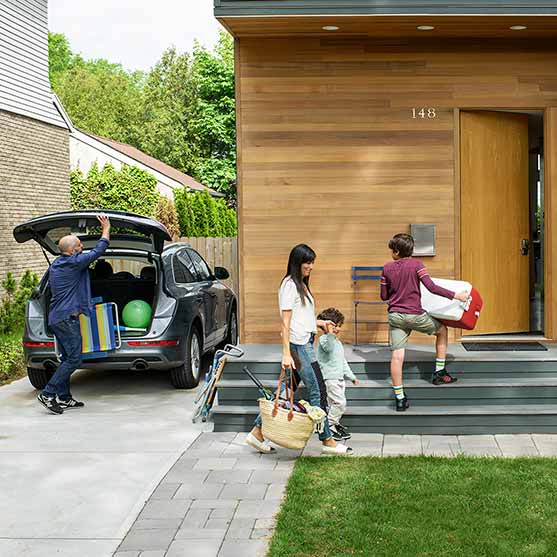 Before a home can take care of you and your family, it needs to know one thing: are you there or not? Today, Nest homes are better at answering that question thanks to two new features. We call them Family Accounts and Home/Away Assist.
When your Nest products know whether you're at home or out, they can do the right thing, automatically. Like turning the heating up or down. And turning the lights on or off.
Share your Nest.
Your home isn't just your home. You share it with others – your spouse, flat-mates, parents. So today, we're introducing Family Accounts.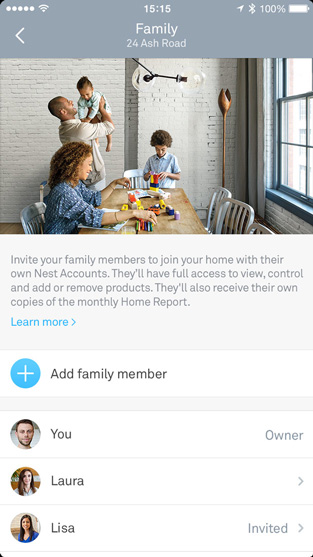 Family Accounts let up to 10 people access the Nest products in your home using the Nest app with their own Nest accounts. No more sharing logins or passwords. It's easy to add people to, and remove them from, your Family Account. So now, the whole family can control the Nest Thermostat, get notifications from Nest Protect, see what's happening at home with Nest Cam and receive their own copies of the monthly Home Report.
Is there anyone at home?
To guess if you're at home, other products use a single phone's location to define a virtual barrier, also known as geo-fencing. They then track your phone to determine when you cross that barrier. But that can lead to mistakes. Geo-fencing isn't very precise, so a product might think that you're at home when you're really down the road. Plus, we forget our phones. They break or get stolen. Their batteries die. And what if a flat-mate, guest or babysitter is still at home? Geo-fencing alone can get it wrong by turning the lights off when someone's at home. Or running the heating when no one's there.
So Nest takes a more thoughtful approach, using more information to get it right. Home/Away Assist uses learning algorithms and activity sensors built into Nest products – the same things that the Nest Learning Thermostat has been using for four years to help save energy. And Home/Away Assist also uses your phone's location to do an even better job of telling if anyone's at home.
Family Accounts provides a critical piece of the puzzle. When family members opt in, it lets Home/Away Assist use data from their phones – Android or iOS. So Home/Away Assist will only switch to Away if everyone is out. And it won't turn down the heating if someone is in a room and not visible to any activity sensors.
We've wanted to do Home/Away Assist for a long time now. But more importantly, we wanted to do it properly. By combining sensor data, algorithms and multiple phones, we think we've nailed it.
Nest has always taken your privacy seriously. And we always will. That's why Nest doesn't track where you're going. Home/Away Assist only needs to know if you're at home or not. And we keep your information safe and secure by encrypting our connections and staying up to date on the latest threats.
With Home/Away Assist, Nest Cam can turn on when you leave and turn off when you walk through the door, so it's an even better security camera. Your Nest Thermostat can turn the heating on as soon as you get home. Your Nest Protect can run its monthly Sound Check while you're out. And Works with Nest products can use Home/Away Assist to work more effectively too.
It's all about making home more comfortable, safe and secure for you. And everyone else who lives there too.
To start using Home/Away Assist and Family Accounts, simply download the latest update to the Nest app.